Golden Globes Review: Tina Fey And Amy Poehler Leave Us Wanting More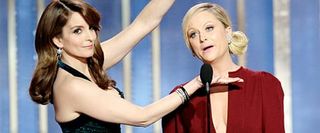 After three years of Ricky Gervais, I had forgotten what it was like to see a genuinely shocking moment at the Golden Globes.
Early on in last night's ceremony, as Tina Fey and Amy Poehler rattled off their opening monologue, every mouth in both my room and at the Globes themselves dropped open as the emcees brought their attention to Zero Dark Thirty director Kathryn Bigelow: "When it comes to torture, I trust the lady who was married to James Cameron for 3 years." Bigelow turned her head away from the camera, maybe so we couldn't see just how amused she was. Zero Dark Thirty star Jessica Chastain clapped her hand over her mouth, and a few tables away, even Julianne Moore seemed shocked. A funny joke that was also a barb, but one that didn't alienate anybody in the room? Even Joaquin Phoenix almost laughed! Who knew that was even still possible?
Fey and Poehler did, of course. The NBC sitcom stars and longtime pals clearly had the exact rapport needed to be successful awards hosts, and when they took the stage for their opening monologue it seemed to promise a Golden Globes broadcast that was unusually witty without feeling downright mean.
And then, they totally disappeared.
Sometimes I guess you only know how much you like an awards show host until they're gone. When Ricky Gervais hosted, Twitter caught fire with rumors that he had been fired mid-show-- it seems like the only possible explanation for why he was so MIA after the opening monologue. When the same thing happened to Fey and Poehler, it seemed obvious that this was just part of the peril of being an awards show host. People talk about you for weeks ahead of the event, scalpels ready to tear you apart the moment one of your jokes falls flat. But then as soon as the opening monologue is over, everyone is more focused on Jennifer Lawrence's acceptance speech or Lena Dunham's tattoos, and the hosts feel part of the past before the show is even over.
You would think that with talents like Fey and Poehler on hand, the Globes could have found a way to include them more (though I did enjoy the absurd gambit of having them in the audience, dressed up like fake nominees for a TV movie called Dog President). But expanding the show to feature more of the hosts would bring the Globes closer to exactly what they aspire not to be: the Oscars. With its endless montages and music numbers and interpretive dance pieces, the Oscars are the bloated, pompous graduation ceremony to the Globes's raucous kegger the night before. You have fun at the Globes and wish there was more of it at the end; Fey and Poehler probably could have killed it just doing stand-up for an hour, but that is not the way of the beast.
The best we can probably hope for is that they get asked back to host next year, though with 30 Rock going off the air and Parks and Recreation potentially following it, they won't carry as much synergy potential next time (yes, I know that's gross, but we all know that's part of why they got the job). There will be no lack of wry jokes to make next year, and no lack of ridiculous Hollywood egos that deserved to be poked a bit without totally deflating them. Fey and Poehler nailed a balance between cynicism and affection that eluded Ricky Gervais for three years straight. They were totally correct to leave us wanting more-- but we shouldn't stop wishing for an encore either.
Staff Writer at CinemaBlend
Your Daily Blend of Entertainment News
Thank you for signing up to CinemaBlend. You will receive a verification email shortly.
There was a problem. Please refresh the page and try again.