Gone Girl's Ending Is Different From The Book In These Specific Ways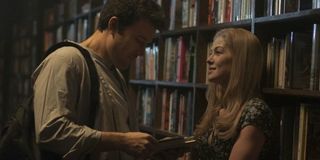 As Gone Girl rolled through production, there was talk about director David Fincher and screenwriter Gillian Flynn tinkering with (and possibly changing) the ending to the author's best-selling novel. Ben Affleck, in interviews, described it as a complete rewrite of the story's third act. Fincher, meanwhile, sort of backpedaled on that statement, saying it was taken out of context, and that his ending didn't change "the marrow of the creature," only altered "the bone structure and the muscles and the skin." OK. Grisly, but okay.
So, who is right? Millions of you flocked to Gone Girl over the weekend, and you saw Fincher's ending. How does it differ from Gillian Flynn's book? Let's discuss, in great, spoilery detail, after listening to Trent Reznor and Atticus Ross' haunting Gone Girl score.
Still reading? We're going to get spoilery. You have been warned. OK, so, the ending of the movie isn't as different from the ending of the book (opens in new tab), as we'd been led to believe. Amy (Rosamund Pike) returns to Nick (Ben Affleck) after she sees – in television interviews – the apologetic version of the husband with whom she wants to spend her life. Nick, meanwhile, lures Amy back, but suddenly realizes he has invited this psychopath back into his life. "I know I'll never sleep again," he says in a line from the book, "I can't close my eyes when I'm next to her. It's like I'm sleeping with a spider."
Most of the scenes in the conclusion of the film come from the book. Nick meets with Detective Rhonda Boney (Kim Dickens), the only cop who still believes him, and they try to figure out a way to trap Amy in her lies. That plan is futile.
Amy gets pregnant in the book, and uses it as the ultimate blackmail to keep Nick at home. And it works. He succumbs to her final plan, and agrees to raise this unborn child, so he can protect the baby from its mother (how horrifying), and also, so he can strive to be a better father than Nick's own dad was. (The character of Nick's father is a much larger anchor in Flynn's novel.)
But there are some changes. In Fincher's film, Nick and Amy hold a televised interview with Nancy Grace clone Ellen Abbott (Missi Pyle), announcing their pregnancy live to the nation but also giving Nick a chance to confront the media that had hounded him for weeks. And there's a part in Gillian Flynn's novel where Nick takes the time to pen a manuscript – titled Psycho Bitch -- that reveals all of Amy's secrets. Yet, in the book, he deletes it when Amy confronts him with the news of her pregnancy.
All in all, as David Fincher mentioned, the meat of Flynn's original ending is all there on screen, and the promised changes were nothing more than red herrings meant to throw us off the trail of Gone Girl as it inched toward theaters. Justified? Sure. Fincher was trying to protect his finished film, and Flynn appeared to play along with the story, temporarily. But for those of us disappointed by the downbeat and suffocating nature of Flynn's conclusion, the lack of a drastic change hurt Gone Girl, the film, just a tad.
Your Daily Blend of Entertainment News
Sean O'Connell is a journalist and CinemaBlend's Managing Editor. He's frequently found on Twitter at @Sean_OConnell. ReelBlend cohost. A movie junkie who's Infatuated with comic-book films. Helped get the Snyder Cut released, then wrote a book about it.