Gone Girl Author Wrote New Third Act For David Fincher Movie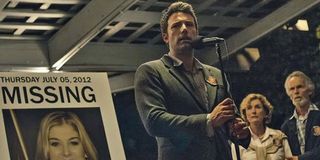 Fans of Gillian Flynn's best-selling novel Gone Girl are in store for a major surprise when its movie adaptation hits theaters next fall. It turns out the author herself has created an entirely new ending for the movie version of the book, which should leave audiences guessing regardless of how many times they've poured over the addictive crime thriller.
The Film Stage tipped this reveal from EW's print edition, which boasted a disturbing cover that had some crying out "spoilers!" Inside the magazine, Flynn spoke of major adjustments to the story, saying, "Ben [Affleck] was so shocked by it. He would say, 'This is a whole new third act! She literally threw that third act out and started from scratch.'"
Affleck stars as Gone Girl's male lead, Nick Dunne, a married man who becomes the prime suspect when his lovely wife Amy Dunne (Rosamund Pike) goes missing on their fifth wedding anniversary.
While Flynn's fans may grumble that the ending they know and love won't make it to the big screen, Gone Girl's author seems delighted at the chance to re-imagine her thriller's final act - especially considering what a fan she is the adaptation's director, David Fincher. She confessed to EW, "When I was writing Gone Girl there were certain parts where I thought, 'David Fincher would really kill this scene. I thought he'd inject just the right sense of necessary malice."
As someone who read and adored the novel Gone Girl, I must admit I'm shocked to learn Flynn was so willing to toss out the thoughtful and disturbing conclusion. However, it's intriguing to me to see how Flynn's skills as a top-notch crime novelist will translate to screenwriting. Beyond that, it's fascinating to ponder where her characters might now end up. Basically, the Gone Girl movie has become freshly mysterious to those who read the book and so thought they had a leg up.
WARNING: Further quotes from the EW article hint to spoilers, so if you want to know nothing other than the premise of Gone Girl turn away now!
Gone Girl readers know the main allure of Flynn's fierce thriller is the "he-said she-said element" of the narrative structure. The book the Dunne marriage through both Nick and Amy's perspective as a means of uncovering how it all went so wrong. For a while, there's a debate over who "the bad guy" of the story is. This complicated portrait demanded an actor that could read as a killer or an everyman. Flynn found Affleck a great fit for Nick, explaining:
For Pike, playing the deceptively perfect wife Amy was a real thrill. "Falling in love with Amy is like a chemical high injected right into your veins. And that needle can inject something toxic as well," She detailed, "[Playing] Amy gives you a sense of feeling completely uncaged. As an actress, I had a sense there are no rules about what a woman has to be."
Gone Girl will open on October 3rd, 2014.
Your Daily Blend of Entertainment News
Staff writer at CinemaBlend.
Your Daily Blend of Entertainment News
Thank you for signing up to CinemaBlend. You will receive a verification email shortly.
There was a problem. Please refresh the page and try again.