Gone Girl Posters Stack Up The Evidence, New Trailer Coming Tomorrow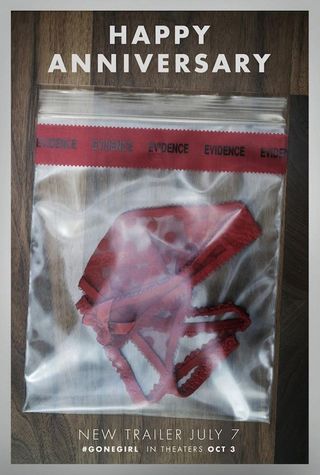 Now that we have finally reached the back half of 2014, David Fincher's Gone Girl feels like it's coming up faster than ever. The movie is set to debut in theaters starting in early October (following the release model of The Social Network), and while we've already seen one teaser trailer, the marketing is only now getting ready to switch things into fully gear. 20th Century Fox will be unveiling a brand new trailer for the movie tomorrow, and today we have four fascinating new posters.
Released to "celebrate" the July 5th wedding anniversary of Nick and Amy (the characters played by Ben Affleck and Rosamund Pike at the center of Gone Girl), each of the new one-sheets was released on a different site and features a different piece of evidence loaded into a plastic bag. To start, at the top of this article, from IndieWire, we have a red pair of women's panties, and below, from HitFix, is a dangerous looking box cutter:
Then there's the scorched diary page posted by Awards Daily:
And finally a burned wedding photo from The Huffington Post:
For those unfamiliar with Gone Girl, based on the novel by Gillian Flynn, the story begins on the fifth anniversary of Nick and Amy's marriage, but it's a beginning marked with tragedy as Amy appears to have disappeared without a trace. Without a great alibi readily available, Nick quickly begins to look like the man responsible for the crime, and it doesn't take long for a media circus to build up around both him and the case. But just like it always is in thrillers such as this, things are not always as they seem, and before too long a dark, dangerous secret is revealed.
Those of you who have read the book probably recognize all of the elements photographed in the poster above, and also know how significant they are within the plot. They're worth discussing more at length and with a little bit of spoiler action, so head with me to page two and I'll break it all down!
If you haven't ready Gillian Flynn's Gone Girl and wish to go into David Fincher's film completely unspoiled, I would recommend heading somewhere else.
The Panties
Reading Gone Girl, we are first led to believe that this skimpy piece of sexy underwear, discovered in Nick's office, actually belongs to Amy – a sign that she wants to rekindle a more sexual relationship – but it's later in the book that we learn that this isn't really the truth. In actuality, these panties belong to Andie, Nick's lover, who will be played by Emily Ratajkowski in David Fincher's film. Instead of being sexual and seductive, these panties are just one of the many pieces of evidence that Amy plants in order to try and frame Nick for her "murder." f
The Box Cutter
While the red panties are discovered by the cops, the box cutter is one important item that Amy makes sure doesn't fall into an evidence bag. In order to make her fake crime scene more believable, Amy uses this box cutter to slice a nice big gash in her arm so that she may spray a good amount of blood all over the kitchen floor. Again, this psychotic behavior is all done in the name of framing her husband.
The Diary Page
Remember what I was saying earlier about not being able to trust everything you see in Gone Girl? This may be the perfect example of it. Scribbled on with the sentence "This man may kill me" on the day that Amy was kidnapped, this is clearly a page ripped out of Amy's diary and points to the idea that Nick is the one responsible for her disappearance. But it's all a lie. As we learn in the second half of the book, Amy has been keeping a fake diary for years just for the purposes of one day faking her own death and framing Nick for the crime.
The Wedding Photo
Of the four posters, this burned wedding photo is the only element that I don't quite remember from the books. To fit in with the other three I assume it does, but at this moment I can't quite recall its larger significance. All the same, the symbolism is pretty hard to miss, as the deterioration of the photo is reminiscent of the deterioration of Nick and Amy's marrage. It's also worth noting that an unburned version of the picture can be found my going HERE and clicking on the framed photo on the mantle.
Gone Girl will be in theaters October 3rd.
Your Daily Blend of Entertainment News
Assistant Managing Editor
NJ native who calls LA home and lives in a Dreamatorium. A decade-plus CinemaBlend veteran who is endlessly enthusiastic about the career he's dreamt of since seventh grade.