The Good Dinosaur Might Be Pixar's First Box Office Failure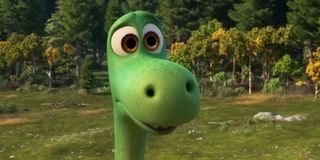 It used to be that merely attaching the name Pixar to a film would guarantee a profit for any project that followed even the most basic storytelling formula. Apparently, The Good Dinosaur is the first film to become the exception to the rule, as it's on track to be the first film to lose the studio money – failing to meet the once high expectations it set.
Apparently, between production and advertising, the latest effort from the studio behind Inside Out is estimated to break even once it hits the $500 million mark. That would seem easy enough, when you take into account that all but one Pixar film has managed to cross that threshold – and rather easily. Yet according to the numbers that Variety is putting up, this dinosaur is far from good news as it's only taken in $131.3 million worldwide since its opening. This is quite the head-scratcher, especially when you look at Pixar's performance this summer with Inside Out.
By its second weekend in release this summer, Inside Out managed to bring in $185 million against a production budget of $175 million; which fits with the sort of performance that most other films from the studio would release. Even Cars 2, a film that was deemed disappointing by Pixar's story and monetary standards, managed to cross the finish line with a $559 million finish when all was said and done. With its rapidly plummeting standing at the box office, The Good Dinosaur is going to be lucky if it can hit $300 million, much less its break even target. So what did this film do wrong, that almost every other Pixar film did right?
The most notable difference between Dinosaur from the rest of the Pixar canon is the fact that it had a more difficult than usual production process. Not only did The Good Dinosaur replace its director in mid-stream, leading to a huge retooling of the film's story, it also switched its cast close to the last minute. While films like Ratatouille or even Brave have started their lives as another film altogether, only to be transformed into the finished products they became, neither film stumbled as hardly as the latest Pixar entry did – with critics and audiences alike. Our own Sean O'Connell wasn't a fan of the film either, stating that the film was so disjointed and problematic that the experience equated to, "having an ornate table setting, then serving your dinner guests a grilled cheese sandwich."
So what sort of lessons can Pixar learn from the failure of The Good Dinosaur? Well, for starters, they should be more careful with how much they change a story already in production. While the approach has worked for them in the past, the truth of the matter is any story will look like a mangled mess if its tinker with beyond the point of coherence. Also, their tentative steps to the "two films a year" approach might need some work as well, since you can practically feel that priority was given to Inside Out's production, based on the reaction to both end products.
Of course, the biggest question on most people's minds now relates to what this says about Finding Dory's chances at the box office next summer, as it's slated to bow on June 17, 2016. Though if you're interested in seeing The Good Dinosaur for yourself, you can still see it in theaters – though we'd assume the theater count will drop massively over the next two weeks. Star Wars: The Force Awakens is going to need all of the screenings it can get its hands on.
CinemaBlend's James Bond (expert). Also versed in Large Scale Aggressors, time travel, and Guillermo del Toro. He fights for The User.
Your Daily Blend of Entertainment News
Thank you for signing up to CinemaBlend. You will receive a verification email shortly.
There was a problem. Please refresh the page and try again.