The Good Dinosaur Easter Egg That Was Hidden In Inside Out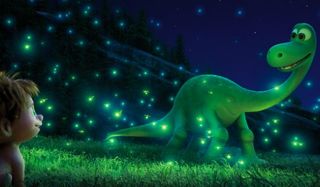 It looks like we've already received a little taste of The Good Dinosaur, Pixar's next film coming out this November. We're not referring to the trailers, photos, and teasers. We're talking about a nod to the film via an Easter egg in Inside Out. Check it out below.
Pixar hasn't officially recognized this Easter egg, but the comparison to the triceratops in the Good Dinosaur trailer is pretty clear, as pointed out by Reddit user lannisterdwarf.
Pixar animators love inserting little hidden treasures into their films. The Pizza Planet truck from Toy Story popped up in every Pixar film since, from The Incredibles to A Bug's Life. A stuffed Nemo appeared in Monsters Inc., and the iconic Pixar ball has appeared in a number of films — to name a few. The Good Dinosaur isn't out yet, but Inside Out has seemingly already paid a hat tip to the film.
Inside Out centers on the emotions living inside the head of a young girl named Riley. When Riley moves with her family to a new home, throwing her emotional state out of balance, Joy (Amy Poehler) tries to cheer her up by playing some happy memories. When Riley and Anger (Lewis Black) are disappointed that San Francisco ruined pizza by putting broccoli on it, Joy plays the memory of a pitstop the family made during the road trip to take a picture of a giant triceratops statue.
Apparently, this isn't the only Good Dinosaur Easter egg in a Pixar film. The Huffington Post notes that other Reddit users have pinpointed ones in Toy Story and Monsters University. Have you seen them?
The Good Dinosaur is directed by Peter Sohn (Pixar voice actor) and features a voice cast of Raymond Ochoa (Monsters University), Jeffrey Wright (The Hunger Games), Steve Zahn (War for the Planet of the Apes), Anna Paquin (True Blood), Sam Elliott (Justified), and Frances McDormand (Olive Kitteridge). The story sees a prehistoric world in which the comet never collided with Earth and caused the dinosaurs to become extinct. As such, they lived long enough to interact with humans. A young Apatosaurus named Arlo (Ochoa) befriends a young human boy after getting separated from his father in a freak accident.
The film has been in development a long time, and was pushed into 2015 after originally scheduled for a 2014 release. Now The Good Dinosaur is scheduled to hit theaters on November 25, after which we should go home and scan through the other Pixar films to see if there were any other Easter eggs pointing to it.
Your Daily Blend of Entertainment News