Good Will Hunting's Original Script Contained A Pretty Aggressive Gay Sex Scene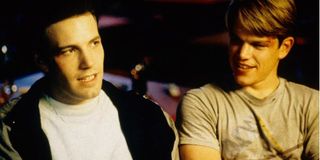 It's no secret that some of our favorite movie classics looked drastically different in the early stages, but would anyone have guessed that a pretty intense gay sex scene figured into the original draft of Good Will Hunting? Harvey Weinstein hit up the Tribeca Film Festival this past weekend for a panel and revealed a ton of his Hollywood experiences, one of which was this hard-to-believe tidbit.
As reported by UPROXX, Matt Damon and Ben Affleck approached Weinstein with this particular draft of Good Will Hunting. It was on page 60 that he realized there was as standout scene where two professors, who were presumed to be straight, began performing oral sex on each other. In doing so Weinstein passed the test he didn't know he was taking. He recalled:
What do you think? Better than Weinstein's Judi Dench story?
There was never meant to be a gay sex scene in the film, but it was rather meant as a test to see if any of the Hollywood execs Damon and Affleck sent the script were actually paying attention. There have been a slew of films with overtly gay content that were watered down to appease Hollywood executives and audiences. 54 with Ryan Phillippe is one of them (the director's cut was screened only earlier this year at the Berlin Film Festival). Cruising is another (James Franco's Interior. Leather. Bar. was an attempt to recreate the 40 minutes of deleted content from the Al Pacino film). But, according to Weinstein's story, Good Will Hunting was not one of them.
As Damon told The Graham Norton Show last year, he and Affleck did this a lot because they were convinced no one was reading the re-writes. Damon described this particular scene as "gayer than anything in Liberace." Weinstein was paying attention, and when he suggested the pair take out the scene, they decided he would be the one to make the film. So, I suppose you could say that the film that won Robin Williams and Daffleck their Oscars might never have happened if it wasn't for two guys going to town on each other.
Hopefully there will be more stories like this one this week. The Tribeca Film Festival plays host to a special screening of the film on Wednesday, April 22, which will be followed by a discussion with director Gus Van Sant, Minnie Driver (Will's love interest, Skylar), Stellan Skarsgard (Will's academic supervisor, Professor Gerald Lambeau), and psychiatrist Paul Browde.
Your Daily Blend of Entertainment News