Wait, Whose Name Is Tattooed On Judi Dench's Ass?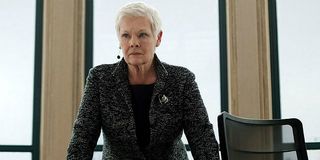 Of all the actresses to have Harvey Weinstein's name tattooed on her ass, we would never have thought it would be Judi Dench. There've been rumors going around for a while that the Oscar-winning actress had gotten this particular piece of work done, but the man to whom she owes a great deal has transformed this gossip into fact. And you've gotta hear the story.
Judi Dench admittedly owes her later career as a big-screen actress to the head of The Weinstein Co. and she wanted to honor him in the only way she knew how: with a memorable tattoo. Weinstein went on The Graham Norton Show and revealed this pretty hilarious tale of how he found out about her new ink. Dench had taken him to the Four Seasons Restaurant and said, "I've got a surprise. You're a guy who has everything. I don't know what to get you." Though the restaurant was filled with a number of other Hollywood icons, including Carly Simon and the late Mike Nichols and Nora Ephron, Dench unbuckled her pants and dropped trou to reveal "JD loves HW."
"I put your name on my ass," she had told Weinstein, to which he replied by falling over. Only Dench could flash her bare bottom to one of the most influential figures in Hollywood and have it taken as a tribute. Meryl might be another exception. You've gotta wonder now if Jennifer Lawrence has done anything like that. She did, after all, become an Oscar winner for Weinstein's Silver Linings Playbook.
According to Harvey Weinstein, Judi Dench also showed her tat to Oprah! When they were all at the BAFTA awards in 2013 (Dench had been nominated for Philomena and Oprah for The Butler), Oprah casually asked him if the whole rumor was true. That was all Dench needed as a prompt to once again unbuckle her pants and show the goods.
You might think this entirely nutty of the now 80-year-old star of the silver screen, but if it wasn't for Harvey, she might have never risen to such stardom. She already had a successful run as a star of television and theatre, but Mr. Weinstein had wondered why she hadn't done movies yet. When she was first making the transition, she had already been cast as M in the James Bond movies, but Weinstein approached her and persuaded her to take on the role of Queen Victoria in the 1997 film Mrs. Brown. She earned an Oscar nomination for Best Actress as a result, and from there she went on to star in another of Weinstein's films Shakespeare in Love, which won her Best Supporting Actress at the Globes and Oscars.
There's nothing like starting off the week with a story about Judi Dench exposing her ass to the likes of Harvey Weinstein and Oprah. Remember this in case you find yourself face to face with this iconic actress. If you ask nicely, perhaps she'll put on a show.
Your Daily Blend of Entertainment News
Thank you for signing up to CinemaBlend. You will receive a verification email shortly.
There was a problem. Please refresh the page and try again.