Gravity Headed Back Into Theaters Starting Next Friday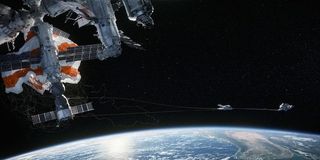 From a movie fan's perspective, when a film is re-released into theaters ahead of the annual Academy Awards ceremony, it's a great opportunity to see the film before Oscar night. Because let's face it, the Academy Awards are much more fun to watch when you've actually seen at least some of the movies being celebrated. But in the case of Gravity, which is among the films making its way back into theaters in the coming weeks — see also Blue Jasmine and Captain Phillips — this is an opportunity for those who haven't seen the movie to see it on the big screen, which is highly recommended.
The Wrap reports that Alfonso Cuaron's space drama Gravity will be getting a nationwide re-release into theaters beginning Friday, January 17. That's the day after the Oscar nominations are announced. Given that there's a good chance Gravity will make the list, it's understandable that Warner Bros. is interested in making the film available to movie-goers again and riding that extra wave of interest right to the Oscars. As to the exact number of theaters, that won't be determined until next week, but The Wrap says it's "expected to be more robust than a typical limited release." The film faces some competition, however, as it's up against Jack Ryan: Shadow Recruit, action-comedy Ride Along, animated comedy The Nut Job, and found-footage horror Devil's Due.
While the prospect of seeing a new release might be too hard to resist for many movie goers, I highly recommend taking the opportunity to see Gravity in the theater if you missed your chance last year, and not just because it could win some awards. I'll be the first to admit, I wasn't overly excited about the film when WB first started promoting it. At least, not any more than I might be by any promising space-set thriller. The early trailer sold catastrophe in space, with the added bonus of Sandra Bullock and George Clooney. Interesting, sure, but more of a renter for me, as I have to pick and choose my films as my budget will allow just like most people. But a little buzz can go along way, and a lot of hype will usually convince me to give something a bit more consideration. Such was the case with Gravity, between the trailers that came later and hearing enough positivity about Alfonso Cuaron's efforts to take us to space and leave us there for an hour and a half, and Sandra Bullock's performance, I had to see for myself.
Bullock's performance is going to look just as good in our living rooms as it does in the theater, but I really think the suspense and visually stunning backdrop will be at their absolute best on a big screen. The biggest possible screen, in fact. Space-big, if possible. One of the most thrilling aspects of the film was feeling as though I was right there with the two leads as they navigated through an incredibly suspenseful life-or-death dilemma in space. That effect may prove to apply at home, especially if you have an amazing movie screening set-up, but for me personally, Gravity isn't a renter. It's a big screen movie. If you wanted to see it but didn't get around to it, you may have a second chance, depending on how wide this re-release goes.
I saw it in IMAX 3D, which may not be an option for this re-release (Wrap makes no mention of IMAX in their article) and Eric gave it a perfect score in his 3D review, but honestly, I think it'd be just as incredible in 2D, if that's your only option or you're looking to shave a few bucks off the cost of your movie ticket.
Kelly joined CinemaBlend as a freelance TV news writer in 2006 and went on to serve as the site's TV Editor before moving over to other roles on the site. At present, she's an Assistant Managing Editor who spends much of her time brainstorming and editing feature content on the site.
Your Daily Blend of Entertainment News
Thank you for signing up to CinemaBlend. You will receive a verification email shortly.
There was a problem. Please refresh the page and try again.