Grown Ups 2 Adds Hunger Games Star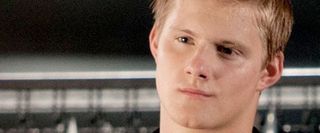 Critics may have totally hated Adam Sandler's star-stuffed ensemble comedy Grown Ups, but the public dug into the tune of $271 million worldwide; so a sequel was inevitable. Already slated to reprise their roles as childhood friends turned slapstick-prone parents are Sandler, Kevin James, David Spade, Chris Rock and Rob Schneider. But to snag an even wider audience than before, this comedy—which will surely gun for the PG-13 rating its predecessor snagged—is adding plenty of young blood to make it irresistible to that coveted youth demographic.
Already Happy Madison Productions has secured Project X's Thomas Mann and Wizards of Waverly Place's David Henrie, while Twilight star Taylor Lautnerhas entered talks for a "key 'fun' role."
Now Variety reports Sandler is tapping into The Hunger Games market by bringing Alexander Ludwig, who portrayed the merciless kid-killer Cato, into the Grown Up 2 mix. Ludwig has signed on to play the son of David Spade's character, which is sure to be an immediate visual gag as the muscular, 6'2" Ludwig will tower over the scrawny Spade, who stands at 5'4".
At this point, few details have been revealed on the premise of Grown Ups 2, but with so much young male talent being cast, I'm wagering there will be a kind of father-son, old man-young man rivalry brewing, especially as reports of Lautner's part declared the oft shirtless hunk would be given the opportunity to go "toe-to-toe with Sandler." Pair this with the revelation that Henrie and Mann are set to play frat boys, and a clearer picture of this comedy begins to come into focus. In short, prepare to see your favorites comedians of yesteryear embarrassed by Hollywood's next crop of hot leading men. So that should be…not fun exactly…what's the word? Oh, right: horrendous. It should be horrendous.
Staff writer at CinemaBlend.
Your Daily Blend of Entertainment News
Thank you for signing up to CinemaBlend. You will receive a verification email shortly.
There was a problem. Please refresh the page and try again.