Grown Ups 2 Adds Wizards Of Waverly Place Star David Henrie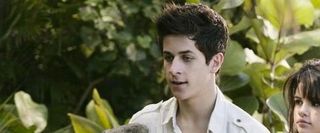 We learned last week, that Taylor Lautner was in talks to board the sequel to Adam Sandler's Grown Ups. At the time, details on the part were slim, but this latest bit of casting for the Dennis Dugan directed comedy ties on to Lautner's role, and offers a new bit of information on what we might expect from the Twilight star in the film.
Last week, THR described Lautner's role as "fun," saying he'd be going toe-to-toe with Sandler. Variety posted word today that David Henrie has joined the cast of Grown Ups 2. Per the site, he joins Lautner "among a group of frat boys who run up against star Adam Sandler and his childhood friends, played by Kevin James, David Spade, Chris Rock and Rob Schneider." The "group of frat boys" part is new, and has me thinking there might be a bit of competition or rivalry between this group of younger guys and the "grown-ups."
Like Lautner, Henrie's involvement in the sequel may draw a younger audience to the comedy, as he's among the stars of The Wizards of Waverly Place. But if you aren't a regular viewer of The Disney Channel, you may know him better for the small but relevant role he plays on CBS' How I Met Your Mother. He's the "son" among the son-and-daughter combo to which Ted is speaking in the narrative, and can occasionally be seen staring indifferently at his father from the couch.
Your Daily Blend of Entertainment News
Thank you for signing up to CinemaBlend. You will receive a verification email shortly.
There was a problem. Please refresh the page and try again.