Guardians Of The Galaxy Director Almost Made An Awesome Silver Surfer Movie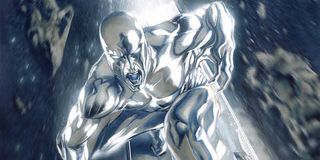 A huge portion of Guardians of the Galaxy's commercial and critical success last year can be attributed to its writer and director, James Gunn. Thanks to his unique vision, the 2014 intergalactic adventure has become one of Marvel's biggest hits. However, it wasn't his first opportunity at making a superhero movie. Over 15 years ago, Gunn had the opportunity to work on a Silver Surfer movie for 20th Century Fox.
On his Facebook page, James Gunn shared that when he first moved to Los Angeles in 1999, he met an executive from Fox who told him that they were making a Silver Surfer movie, and he might be a good fit for it. Gunn subsequently wrote an extensive treatment that he calls "cosmic as hell," featuring Silver Surfer turning against his master Galactus. However, because the Fantastic Four movie hadn't been made yet, the team didn't play any role in this film like they did in the Sentinel of the Spaceways' first comic book appearance. Gunn ended up turning down the Silver Surfer job to write the script for a live-action Spy vs. Spy film, and while that movie didn't end up getting made either, it did get him a lot of jobs afterwards.
In the comics, alien Norrin Radd became the Silver Surfer after he exhanged his freedom in for the safety of his homeworld Zenn-La. From that point forward he became the herald of Galactus, known to most around the galaxy as The Eater of Worlds. Gunn didn't elaborate on whether this film would have explored Silver Surfer's origins, but at minimum it sounds like we would have seen him searching for planets his master could devour before eventually rebelling against him. Like Guardians of the Galaxy, this probably means we would have seen a lot of interesting and unique aliens popping up, along with maybe Surfer eventually making his way to Earth and developing an affinity for humans.
At the time that he was writing this Silver Surfer treatment, the superhero movie craze hadn't hit yet. The Batman and Superman movies were the only pop culture phenomenons from the genre, and Blade had only come out a year prior. Depending on which month Gunn met with this executive, X-Men had already started filming, so Marvel's mutants would still have been the ones to kick things off. However, it's fun to imagine a world where moviegoers could have seen a Silver Surfer adventure in theaters alongside other early 2000s superhero films like Spider-Man and Hulk, though the visual effects of that time might not have been advanced enough to effectively show off the Power Cosmic.
Silver Surfer eventually made his cinematic debut in 2007's Fantastic Four: Rise of the Silver Surfer, physically portrayed by Doug Jones and voiced by Laurence Fishburne. The film rights to the characters are currently still owned by 20th Century Fox, so if he does appear on film again, whether in a cosmically-spectacular solo movie or among other heroes, don't expect him to appear in the Marvel Cinematic Universe unless Marvel and Fox work out a deal.
Connoisseur of Marvel, DC, Star Wars, John Wick, MonsterVerse and Doctor Who lore. He's aware he looks like Harry Potter and Clark Kent.
Your Daily Blend of Entertainment News
Thank you for signing up to CinemaBlend. You will receive a verification email shortly.
There was a problem. Please refresh the page and try again.