Guillermo Del Toro Really Wants This Game Of Thrones Star In Pacific Rim 2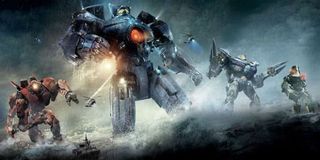 The future of Guillermo Del Toro's battle against invading Kaiju has not been looking too bright as of late. Just a few days ago the official statement on the status of the feature was released, and while Legendary confirmed that the project will "be re-dated at a later time", the message was abundantly clear-- Pacific Rim 2 is not happening any time soon. But director Guillermo del Toro won't let go, and is even teasing us with potential future castings, particularly of a certain Game of Thrones actress.
Del Toro took to Twitter to share kind words about the fan-favorite character from the HBO fantasy series. And through his praise, he also commented on how badly he wants her in the Pacific Rim sequel...if it happens.
There are a number of Game of Thrones actors that would do a stellar job as a Jaeger pilot, but none I'd rather see than Arya Stark. Maisie Williams' character has done everything in her power to combat her monsters in Westeros. But with a few limitations, including a smaller stature, and you know, being a young girl, it hasn't been easy. Give her a super robot, no one will be able to beat her.
In all seriousness though, Williams has shown us how well she can handle a character with spunk, and a whole lot of fight in her. There's no question that she would be an incredible addition to the Pacific Rim 2 cast...if the movie ever happens. And there's where the disappointment starts to settle in. Because before this tweet, even despite some of the rumors that the project was completely dead, the problems it faced, and the indefinite postponing, del Toro was always the most hopeful of the bunch. Just a couple weeks ago he told EW that he was still on it and that Pacific Rim 2 is "not gone". But now, in this tweet above, he uses the language, "if PR2 happens". I don't know about you, but that makes me feel a bit unsettled about the whole thing.
As of now, there are no definitive plans for the future of the Pacific Rim franchise. Guillermo del Toro's upcoming horror flick, Crimson Peak, while generating buzz has held recent reports as being a "problem picture" for the studio. So the future of Pacific Rim 2 could lie heavily on how Crimson Peak performs at the box office. So if you want to see a sequel, be sure to check out del Toro's newest flick, Crimson Peak in theaters on October 16.
Your Daily Blend of Entertainment News
Thank you for signing up to CinemaBlend. You will receive a verification email shortly.
There was a problem. Please refresh the page and try again.