The Gunman Trailer Is Slick And Brutal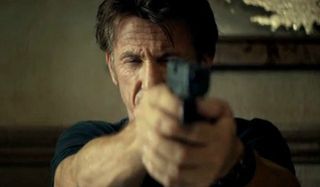 The new international trailer for The Gunman has been released and it looks very, very impressive. Not only does it boast one hell of a cast, but it also looks as though it will give each of its actors plenty of room to flaunt their talents. Check out the first trailer for The Gunman below.
It looks as though The Gunman is Sean Penn's own politically-charged attempt at a Taken film. And that's something that we should all be pretty excited about. The Gunman is also Penn's first bona-fide action role, which means that it will show us a side of his skills that we've not been privy to before. The film's simple plot revolves around Sean Penn's Martin Terrier, an international military operative who wants out in order to settle down with the love of his life, played by Italian actress, Jasmine Trinca. However his employees decide that he can't retire, and instead they start a game of cat and mouse that results in Terrier traveling across the length and breadth of Europe.
Sean Penn is easily one of the best actors of his generation and it's a cinematic atrocity that he hasn't appeared in more films over the last few years. This will be Sean Penn's first film since his brief appearance in 2013's The Secret Life of Walter Mitty, which came just a few short months after he'd been the only good thing in Gangster Squad. In fact since his Oscar-winning turn in 2008's Milk the only other appearances he has made have been in Fair Game, The Tree Of Life and This Must Be The Place. None of which have allowed Sean Penn to truly flex his acting muscles.
Still not in the mood for The Gunman? Then maybe its brooding first poster might just do the trick.
Sean Penn has surrounded himself with some of the action genre's most supreme creative talent for The Gunman. Taken director Pierre Morel, who wisely decided to jump ship before the despicable Taken 2 and the abhorrent Taken 3, helped to reinvigorate the career of Liam Neeson with the enjoyable 2008 flick. Meanwhile Joel Silver, who has previously produced the likes of The Matrix, Die Hard, and Lethal Weapon, is on board too. But it's the supreme ensemble of Idris Elba, Ray Winstone, and Javier Bardem that suggests The Gunman will be an action film that is packed with sensational action, an intriguing plot, and genuine surprises. We'll see if that's actually the case when The Gunman hits cinemas on March 20, 2015.
Your Daily Blend of Entertainment News
Thank you for signing up to CinemaBlend. You will receive a verification email shortly.
There was a problem. Please refresh the page and try again.