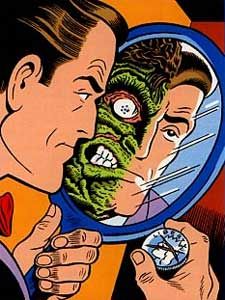 Memento was the film that first launched both Batman Begins director Christopher Nolan and actor Guy Pearce into the public eye. Since then, Nolan has become one of Hollywood's premiere directors while Pearce has sort of squandered his momentary fame on bad movies like The Time Machine and is now all but persona non grata.
Yet it seemed almost inevitable that Pearce and Nolan would re-unite at some point, which is why this latest Batman: The Dark Knight casting rumor from Batman-On-Film makes a lot of sense. Word from them is that all the other names rumored for the role of Harvey "Two-Face" dent have been trashed and that Guy Pearce is being brought in to play Batman's conflicted future nemesis.
This is of course, not official. We get a lot of rumors just like this running across our desk. But remember it whenever the official casting announcement finally comes out. Pearce would be a great fit as Dent, and getting back with Nolan might be just the thing to put his career back on track again.
Harvey Dent was last seen on screen being played rather ineffectively by Tommy Lee Jones in Batman Forever. Before that he was played by Billy Dee Williams. In both cases, the character was completely wasted. Expect much better treatment from Nolan.
Your Daily Blend of Entertainment News