A Guy With A Batmobile And The Make-A-Wish Foundation Have Teamed To Do This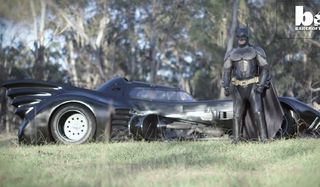 Zac Mihajlovic is the hero several Make-A-Wish children deserve… AND the one that they need right now. Mihajlovic is an Australian engineer who spent the better part of two years constructing his own replica of the Tim Burton-era Batmobile. And now that it's up and running, he's taking it on the road to show to Make-A-Wish children… which is the most amazing thing we've heard:
In the video piece, posted to Barcroft Cars' YouTube page, Mihajlovic states that his grandfather, a retired engineer, helped him recreate this "street legal" Batmobile – meaning he can take it on the road (or race it around a track, as you see in the video). Even more amazing? Parts from the original Batmobile used in Tim Burton's film can be found in Mihajlovic's build. How he obtained them is a bit of a mystery, though.
Creating a street-worthy Batmobile's no big deal. We recently wrote about a fantastic Bat-fan who recreated Batman's costume and Bat-cycle, using them to ride around Japan. Zac Mihajlovic's stories are certainly interesting, whether it's being chased down the freeway by news helicopters or realizing he might own the only Batmobile replica (out of the 9 reported in this story) that is able to be taken out onto the highway.
But it's the car enthusiasts work with the Make-A-Wish foundation that make this story worth reporting. Despite the fact that businessmen have offered to buy the car (and some couples have begged to have sex in the car to "christen" it), Mihajlovic says that he wants to put it to good use helping kids in need.
Like these kids!
The report says that "Batman" has helped 40 Make-A-Wish children, and he won't stop there. That's a true hero, folks. Outstanding work, Zac Mihajlovic.
Movie junkie. Infatuated with comic-book films. ReelBlend cohost. Resident dad. Extroverted introvert. Wants to see the Snyder Cut. Managing Director at CinemaBlend.