Hall Pass Trailer Sends Owen Wilson And Jason Sudeikis On The Prowl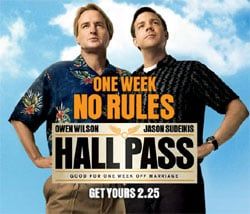 The concept for the new Farrelly Brothers comedy is basically a rip off of that Curb Your Enthusiasm where Larry got to take a break from his marriage to have sex with another woman. But the cast is so good that after you watch the trailer, you'll be hooked anyway.
Owen Wilson is the big name in the movie's credits, but it's his buddy co-star Jason Sudeikis who steals all the trailers best moments. The rest of the cast fares just as well, with Jenna Fischer and Christina Applegate as the world's coolest wives, freakishly tall, frequent Ricky Gervais cohort showing up as part of the best friend posse and, oh yeah, former Curb scene stealer JB Smoove in the mix too. Watch the trailer below or in HD on Apple and try to spot the awesome Richard Jenkins cameo.
Notice anything strange as you watched? No mention at all that this is a Farrelly Brothers movie. Ten years ago they were a major box office draw, and their names would have been prominently featured in any movie they were involved with. But Something About Mary was a long time ago. These days they're the guys who made Fever Pitch.
Your Daily Blend of Entertainment News
Thank you for signing up to CinemaBlend. You will receive a verification email shortly.
There was a problem. Please refresh the page and try again.