Halle Berry Arrested In Tulia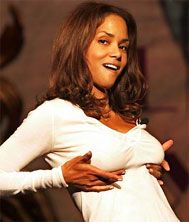 Catwoman is going to take one of her own nine career lives and star as a lawyer investigating a Texas drug bust in Tulia. Halle Berry has signed on to portray an attorney for the NAACP Legal Defense and Educational Fund in the 1999 case of 46 people (of which 40 were African American) who were arrested despite the fact that no money, drugs or illegal weapons were found on any of the subjects, reports The Hollywood Reporter.
The film will be based on the nonfiction book "Tulia: Race, Cocaine and Corruption in a Small Texas Town." Negotiations are underway for Carl Franklin (Out of Time and High Crimes) to direct. Given Franklin's track record, you can expect the mystery of the case to use themes of race and class as plot devices to evoke melodrama. A shame when the story has the potential to investigate tense race/class relations. Then again, so much inane racism looms over the actual events that it's fitting that it would produce a stereotypical Hollywood drama.
Your Daily Blend of Entertainment News
Thank you for signing up to CinemaBlend. You will receive a verification email shortly.
There was a problem. Please refresh the page and try again.