When The Han Solo Star Wars Movie Will Take Place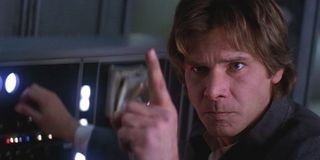 Smashing box office records as it is, it's easy, and fun, to get swept up in the mania surrounding Star Wars: The Force Awakens. It's just as easy to lose sight of the fact that the Star Wars universe is expanding like never before, with a new movie scheduled to drop every year for the foreseeable future. In addition to the Episodes, this includes the Star Wars Story films that explore different corners of that far, far away galaxy. We know one of these will revolve around a younger version of Han Solo, and now we know when it will take place.
We're going to get into some SPOILERS for Star Wars: The Force Awakens beyond this point. Tread lightly.
Lawrence Kasdan has been all over the Star Wars universe, writing the scripts for The Empire Strikes Back and Return of the Jedi, and contributing in other capacities. The upcoming Untitled Han Solo Anthology Film will reportedly be his last entry into the canon. Talking with J.J. Abrams, with whom he collaborated on The Force Awakens screenplay, at the Director's Guild of America, he shed a little light on the set up, saying:
This timeline isn't too terribly shocking as it's always been said the story will check in with the smuggler and general space rogue in his younger days. And given the events of Star Wars: The Force Awakens, he's no longer with us, so looking to the future isn't an option (and even if he was, he'd show up in Episode movies).
Additionally, there is a lot of potential ground to cover. By the time we meet him and Chewie in Episode IV, he's already had his fair share of adventures, and just looking at his ruffled appearance and the battle scars on the Millennium Falcon, you know he has stories. But as much as we know about Han Solo, there are still a lot of nooks and crannies we've yet to explore. One example is how, thanks to the Star Wars comics, we know that he had (or maybe didn't have) a wife, Sana Starros, before he met Leia.
It also makes sense that Lawrence Kasdan dropped a reference to Akira Kurosawa. George Lucas borrowed heavily from his 1958 film The Hidden Fortress in creating Star Wars, both aesthetically and from a plot standpoint, and the filmmaker has always loomed large over the saga.
The whole talk between Kasdan and Abrams is interesting and worth checking out.
Lawrence Kasdan will handle the script for the Untitled Han Solo Anthology Film, while the masterminds behind The Lego Movie and 21 Jump Street, Phil Lord and Chris Miller, will direct. Aside from that, we don't know much about it, not even who will play the young Han Solo, but at least it won't be an origin story when it hits theaters on May 25, 2018.
Your Daily Blend of Entertainment News
Thank you for signing up to CinemaBlend. You will receive a verification email shortly.
There was a problem. Please refresh the page and try again.