The Harry Potter Studio Tour May Have Something Big In The Works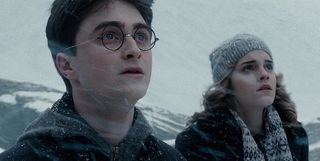 It sounds like something big is coming to Warner Bros. Studio Tour London. Both Pottermore and the Harry Potter movie Facebook pages have dropped some pretty big hints, including this one, which notes that "New secrets will be revealed," and some kind of announcement is coming later this month...
Post by Warner Bros. Studio Tour London.
Lest anyone jump to the wrong conclusion about what the big announcement might entail, the photo above includes the logo for Warner Bros. Studio Tour London - The Making of Harry Potter, indicating that whatever's going to be announced on January 26 relates to the Leavesden-set studio tour in the U.K.
The clue that dropped on Pottermore yesterday was a bit more subtle (Pottermore does appreciate a good riddle), but might offer a pretty big clue as to what the announcement is.
Post by Pottermore.
Harry Potter fans will recognize "Engorgio" as the Engorgement charm, used by witches and wizards to expand something or cause it to swell. Is it fair to assume that this big announcement relates to some kind of expansion on the Harry Potter-themed studio tour? That seems like the most obvious conclusion to jump to. Assuming that's the case, whatever additions are being added follow the updates made a few months back, which added a very creepy exhibit and showcased the Dark Arts side of the magical Harry Potter films.
Warner Bros. Studios Leavesden was the base for all eight of the Harry Potter films, and it will also be the base for the upcoming spinoff film Fantastic Beasts and Where To Find Them. In fact, Harry Potter and Fantastic Beasts producer David Heyman shared some vague updates on the studio situation during an interview with Collider. When asked about how they'll have room to shoot Fantastic Beasts at the WB Leavesden Studio, now that they've turned that stage into a studio tour, Heyman responded:
Heyman also noted that WB didn't buy the Leavesden studio location until after they finished filming the Harry Potter movies, and from the sound of it, they made some shiny new updates there since then, which Heyman is eager to benefit from when it comes time to film Fantastic Beasts.
With so little to go in about the January 26 Studio Tour announcement, it's probably a leap to try to connect Fantastic Beasts directly with whatever's planned for the studio tour in terms of what might be featured, especially considering the film hasn't even begun production yet (it's expected to start this Summer). In fact, assuming it is an expansion, I'm inclined to believe that the announcement will reveal something related to the previously released Harry Potter films, which would explain "new secrets will be revealed!".
Then again, maybe there's some middle ground to find here. After all, wouldn't an added Magical Beasts exhibit that showcased some of the magical beasts feature in the original films be a great way to get tour visitors excited about the new movie? Dragons and Hippogriffs and Thestrals, just saying...
We'll have to wait and see what's announced about Warner Bros. Studio Tour London - The Making of Harry Potter when the news arrives next week.
Your Daily Blend of Entertainment News
Thank you for signing up to CinemaBlend. You will receive a verification email shortly.
There was a problem. Please refresh the page and try again.