Has Matthew McConaughey Been Reading Marvel And DC Scripts?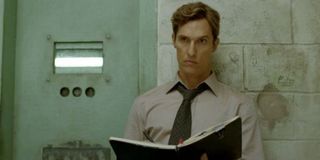 The past few years have been big milestones in Matthew McConaughey's acting career. After earning an Academy Award for Best Actor in Dallas Buyer's Club in 2013, and an Emmy nomination for his stellar performance in True Detective, the 45-year-old actor has become a hot commodity in building critically-acclaimed films. So would the elite actor step into the realm of superhero movies? Well, turns out, McConaughey has already been reading scripts.
In discussing the difficulty of getting many of his mid-budget dramas financed in a landscape of huge tentpole action movies, McConaughey opened up about where the industry stands right now. While he admits the movies he's been making are not franchised films, he does not close doors on that idea. He told Variety:
Basically what it comes down to for McConaughey is the story and character. Sure there's a lot of money in superhero films. That's not a new concept. And sure there have probably been actors who signed up for the franchise knowing that be the case. But for McConaughey, who currently has no problem finding work, he can be picky about which roles he chooses to play. Just yesterday at Cannes his film, The Sea of Trees opened, with the actor starring alongside Naomi Watts and Jordan Gavaris. He also has Stephen Gaghan's Gold out next year, and is currently filming for The Free State of Jones and Kubo and the Two Strings.
The Oscar-winning actor is attached to an untitled Illumination Animated Film directed by Garth Jennings due out sometime next year. There's not much free time in his schedule, but while McConaughey is not ruling out the idea of a comic book movie, it is something that would take a lot of thought.
It's the same situation that many critically-acclaimed actors face when considering how successful Marvel and DC movies are. At this point, actors like Benedict Cumberbatch are signed on to star in upcoming films, and the idea of 'selling out' for a big budget blockbuster isn't quite as recognized as a downgrade. Though there are those still sticking to their ideals, like Ethan Hawke, who came close to scoring the Doctor Strange role, but was not particularly interested in the commitment outside of acting, claiming it takes away from the actual process he enjoys.
So, if a role worth taking comes his way, maybe just maybe, we'll see McConaughey suiting up as a comic book hero (or villain) but in the meantime, we're left dreaming up which would be the best fit.
Your Daily Blend of Entertainment News