The Reason Why Doing A Marvel Movie Would Suck, According To Ethan Hawke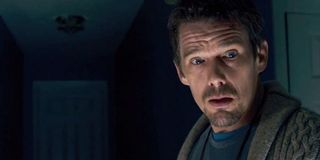 It's hard to imagine there being any downfalls to working a Marvel movie. They've become critically acclaimed films with star-studded casts, incredible directors and world-wide popularity. But, as an actor, pinning your name to one of their movies, also means you are the new face of a comic book character. With that power, comes more responsibility. And according to Ethan Hawke, that extra commitment is the biggest reason why doing a Marvel movie would suck.
When the studio was first working on the casting for Doctor Strange, Joaquin Phoenix was up for the lead, but eventually opted not to sign on to the film. Afterwards, many big names were being considered including Ethan Hawke, but Marvel finally settled on Benedict Cumberbatch. In a recent Happy Sad Confused podcast episode, Ethan Hawke discussed how close he came to scoring the role and also, his big drawback. He said:
And Hawke makes a solid point, because the problem doesn't lie in the filming or the acting process. That process is attractive to serious actors. But it's the commitment afterwards. The world press tours, the Comic Cons, the endless interviews and associations with your character. That takes up a lot of time. And worst of all, that takes time away from acting.
Signing up for a Marvel movie is signing up for a life change. The actor is required to be committed to all of the press exchanges and campaigning, and it never really goes away either. It's like that with most superhero movies, not just the current Marvel Cinematic Universe (which is even more of a commitment). Michael Keaton is still asked questions about Batman. There's no avoiding it. So for certain actors, signing their lives away like that isn't worth the hype of the project, even if it is an exciting prospect.
While Hawke never confirms in the interview whether or not he actually met with Marvel about the Doctor Strange role, his point makes you think about what this means for Benedict Cumberbatch. Cumberbatch has been scoring some incredible roles and been the face of many films lately. Will his time on a Marvel movie take away from other potentially big roles? Hawke added in the interview:
Marvel has picking big names to star in their films lately, but it looks like certain actors, who would rather act more than be the face of a superhero are straying away. We'll have to see if and how Benedict Cumberbatch's career may change after his time in the MCU. Doctor Strange hits theaters November 4, 2016
Your Daily Blend of Entertainment News
Thank you for signing up to CinemaBlend. You will receive a verification email shortly.
There was a problem. Please refresh the page and try again.