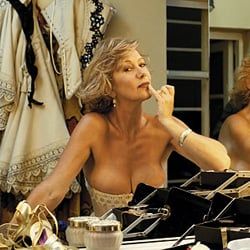 Helen Mirren is a smoking hot, mature woman. I think that's a given. Add that to the fact that she's a top-notch actress in an industry that doesn't always offer the best parts to women of a certain age, and you've got yourself quite a package. But even as experienced in front of the camera as she is, Mirren has so far dodged modern Hollywood's most pervasive blockbuster: the comic-book movie. That's about to change.
According to THR, Mirren has signed on to play an assassin (an assassin of hearts, maybe?) in the upcoming Red, an adaptation of the popular Wildstorm/DC comics mini-series of the same name. Mirren will a cast already comprised of Bruce Willis and Morgan Freeman. If that's not an odd assortment of people, I'm not sure what is. The series follows a retired black-ops as he attempts to take on younger, more skilled assassins. The film will be directed by Robert Schwenke.
It's always hard to tell where quality comic adaptations will come from. Although Red has the fine-looking Mirren, it also has Bruce Willis, whose good to lame ratio is at about 1:5 now. This feels like one of those comic movies that flies under radar and gets forgotten almost immediately. That's too bad because my lady, Helen, deserves so much better.
Your Daily Blend of Entertainment News
Thank you for signing up to CinemaBlend. You will receive a verification email shortly.
There was a problem. Please refresh the page and try again.