Here's Jared Leto's Pre-Joker Transformation Picture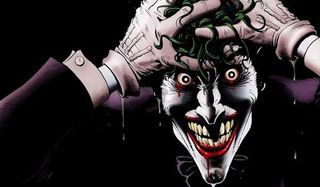 Jared Leto's first role after winning an Oscar in Dallas Buyers Club is going to be a big one, as he is tackling one of greatest villains in both movies and comic books. He plays the Joker in David Ayers' upcoming Suicide Squad, and he took to social media to tease his transition from handsome movie star to gleefully psychotic villain.
Leto posted this photo of himself in the makeup chair on the Toronto-based set of Suicide Squad on Instagram with the simple caption, "Transformation begins." He's already shown off his freshly bleached hair, and teased a potential voice, but from this image, you can certainly see that he has the ultra pasty complexion of Batman's greatest nemesis. We've also heard that in the film this is his natural color, not makeup as it has been elsewhere. All he needs now is some green in that hair, a little bit of strategically placed makeup to add accents, and a purple suit and he's going to be ready to pick up the mantle left by the tragic death of Heath Ledger.
The Joker is obviously best known as one of Batman's primary antagonists, but his inventive, sadistic schemes have wreaked havoc all throughout the DC Comics universe since his first appearance in 1940. Though the character has been brought to life onscreen numerous times, notably by Heath Ledger and Jack Nicholson, as well as Mark Hamill in animated form, Leto has reportedly taken great pains to make the character his own and deliver something fans haven't seen yet.
Suicide Squad sees a team of super villains, under the watchful eye of Amanda Waller (Viola Davis), who have been incarcerated for their various crimes and work for the government in exchange for commuted sentences. They do all sorts of nefarious things, essentially running black ops, and giving the government plausible deniability should they get caught. In the film version, the team includes the Joker, Harley Quinn (Margot Robbie), Deadshot (Will Smith), Boomerang (Jai Courtney), and Enchantress (Cara Delevigne). Elsewhere, Joel Kinnaman also plays Rick Flagg, Waller's right hand, and there are rumors that Jesse Eisenberg's Lex Luthor could also show up.
Suicide Squad hits theaters on August 5, 2016, and however he turns out, we can't wait to see Leto's Joker interact with Robbie's Harley Quinn on screen. That promises to be one delightfully twisted relationship to witness.
Your Daily Blend of Entertainment News
Your Daily Blend of Entertainment News
Thank you for signing up to CinemaBlend. You will receive a verification email shortly.
There was a problem. Please refresh the page and try again.