Jared Leto's Joker Haircut Is Jarring To The Eye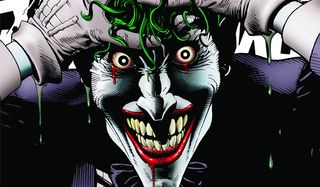 It appears that Jared Leto is beginning what will be his physical transformation for his role in the upcoming supervillain team-up extravaganza, Suicide Squad. With mighty big shoes to fill, Leto will be tasked with portraying the iconic DC Comics clown prince of crime, The Joker in the film. Judging from a bleach-infused selfie the actor posted to Instagram today, this rendition of the beguiling Batman nemesis will be sporting a shorter hairstyle than we're used to seeing of the character. Scandalous!
The message from the caption-less clean-cut clip was rather clear: Jared Leto's Joker is going to be more of a groomed gentleman. While daring to make the character his own might be an admirable endeavor for the actor, the move may be met with pessimism from fans expecting a more… Joker-looking version of Joker. The "Draco Malfoy" comparisons are already starting to pour into my mind, as "Why so serious?" is being replaced with "Wait until my father hears about this."
However, preliminary judgments are not always accurate when it comes to these casting nuances for established characters. Of course, Leto is taking this role under the rather large, immortal shadow cast by the last person to tackle the character, the late Heath Ledger, whose portrayal was featured in Christopher Nolan's The Dark Knight. The performance won Ledger a posthumous Oscar for Best Supporting Actor, and is widely revered as one of the greatest live-action comic book character adaptations in history. Of course, back in the day when The Dark Knight was still filming and a series of blurry potato quality pics of Heath Ledger's long-haired, cheek-scarred Joker first hit the Internet, there were rumblings of doubt amongst the same fanbase that would likely poo-poo this more stylish approach to the maniacal misanthrope. In fact, in supporting this new creation, director, David Ayer recently referred to Leto's performance with the vague description of, "majestic."
What we're seeing is likely far from the final product. Leto reportedly has plans to bulk up for the role, which should broaden the extent of his physical transformation far beyond a simple haircut and a bottle of bleach. (Although that may be a problematic protein proposition seeing as he is a big-time vegan.)
As far as what we can expect from Jared Leto's performance and plot involvement in Suicide Squad, it has been reported that The Joker will not be one of the indentured supervillains who have been forced to partake in the titular Suicide Squad under threat of an implanted head bombs. However, the presence of Margot Robbie's Harley Quinn, Joker's former Arkham Asylum therapist/Stockholm romance case, creates the possibility of him existing as a key character on the sidelines – perhaps a mastermind to a possible rebellion against the group's quasi-benevolent handler, Viola Davis' Amanda Waller. Regardless of the extent of his part, Jared Leto should be bringing his exceptional acting talents to Suicide Squad, creating a hopefully unique take on someone who may be the most popular supervillain in pop culture history. The film is set to hit theaters on August 5, 2016.
Your Daily Blend of Entertainment News