Hits Trailer: Watch Matt Walsh Get Internet Famous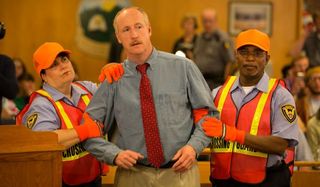 In his directorial debut, Arrested Development star, David Cross brings together a hilarious cast to explore what it means to famous in our modern, YouTube trending world in his new film, Hits. And among his hysterical cast (who must've been so much fun to direct) is the comedic genius, Matt Walsh. Watch as Walsh reaches his ultimate stardom, YouTube fame, in the trailer below:
Matt Walsh plays Dave, an average guy in a small town who just wants to see the potholes on his street fixed. But when his rants at City Hall get recorded and go viral on YouTube, he becomes a symbol of fame in the isolated town. The film explores this unrealistic expectation of fame, and how people's obsession with it can completely disrupt their lives around them. The town goes insane along with Dave's 'fame' and they all want a piece of the action. The poor daughter, who so desperately wants to be seen, is then forced into the shadows of her father, who doesn't seem to be enjoying the sudden stardom by the looks of this trailer.
The film, produced by Honora, was first screened at the 2014 Sundance Film Festival and then again at the 2014 Sundance London Film Festival. The film is jam-packed with favorite actors and comedians including James Adomian, Meredith Hagner, Jake Cherry, Derek Waters, Jason Ritter, Wyatt Cenac and even the adorable Michael Cera. And each of their characters are portrayals of different types of, how shall I put it, fame-whores. There's the American Idol/The Voice obsessed daughter, a wannabe teenage rapper, and the Brooklyn hipsters who so need to stick up to "the man".
The quote at the end of the trailer says it all:
While the film didn't get the best reviews at its previous screenings, it's understandable that the dark humor may not be for everyone. It's totally a jab at what it means to exist and take part of our insanely obsessive 21st century world. And if you are even a little bit of a comedy fan, it'll be great to see some of these faces together on screen, even if just for a couple laughs. Though be wary, because many critics found the film to miss the mark and be a bit too hateful towards the celebrity culture. But, I personally love the idea of pointing out how silly it is to be YouTube famous, or to be obsessed with getting on a reality show, or whatever it may be. And that's the job of comedy, to make fun of the ridiculous. And what's more ridiculous than our current celebrity and viral-video obsessions.
We'll have to keep a look out for the official release date, no word quite yet. But there may be a release on BitTorrent.
Your Daily Blend of Entertainment News
Thank you for signing up to CinemaBlend. You will receive a verification email shortly.
There was a problem. Please refresh the page and try again.