The Hobbit Comic Con 2012 Live Blog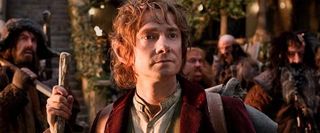 It's been nearly a decade since Peter Jackson took us back to the world of Middle Earth, but that streak ends this December. Adapting the first novel written by J.R.R. Tolkein, the legendary New Zealand director will be taking us on an unexpected journey as Bilbo Baggins, played by Martin Freeman, and a gang of dwarfs head to the Lonely Mountain to reclaim a long lost treasure from a dragon named Smaug. We've already got our first look back in late December when the first trailer arrived online, and I told you about the CinemaCon footage back in April, but now The Hobbit train has stopped in San Diego where it will be showing off new footage to the Comic Con masses.
As I've been all day, I'm currently sitting in the San Diego Convention Center's famous Hall H where Peter Jackson and his cast will be sitting and answering fan questions as well as showing off some of what they have from the movie so far. Refresh this page and follow the live blog below and check back afterwards to read a detailed description of the footage!
4:11: It's Hobbit time! Panel introduced with the song heard in the trailer from last December.
4:12: Featurette featuring Peter Jackson behind the scenes of the movie on the big screen with all of the dwarfs and a new look at the making of the movie.
4:22: Featurette was beautiful and heartfelt, showing the last day of shooting as well as the lead up. Truly great.
4:23: Peter Jackson up on stage! He says that a new featurette for those that won't be here at Comic Con. Has the entire crowd say to his phone, "Hi from Comic Con!"
4:24: Jackson brings on up Philippa Boyens and gets ready to present some footage! He says that the music track is not done yet, as Howard Shore won't record for another four to six weeks. Most effects shots are not finished, but he's picked footage where most of it has been done. There are shots from both movies, just for Comic Con. Let it roll!
4:38: Wow, that was a ton of footage. Will have descriptions later. Worth mentioning that the footage was neither in 48fps or in 3D. UPDATE! You can see the very lengthy footage recap right over HERE
4:39: Andy Serkis joins Peter Jackson on stage! Richard Armitage! Martin Freeman! Sir Ian McKellan (who gets a standing ovation)! Elijah Wood!!
4:39: Over 12 and a half minutes of The Hobbit was shown. Time for fan questions!
4:41: Where will we see Peter in the film? He actually hasn't shot the cameo yet, but he's doing it tomorrow in New Zealand. He says that he will be hard to spot.
4:43: Audience member asks about the inclusion of more female characters because the book has none. Philippa Boyens – who is a co-writer and producer - says Galadriel is in the movie (and was in the footage). They've also created a new female character, Tauriel, who will be played by Evangeline Lily.
4:45: In between questions Chris Hardwick says hi to Ian McKellan just because he wanted to say hi.
4:46: Question about acting in all of the prosthetics. Martin Freeman says that walking in Hobbit feet is like being a fledgling duck, but eventually you get used to it and play the character. Richard Armitage says that the look of Thorin and the other dwarfs went through an evolution, and it was a challenge because you had to express harder in order for it all to show through.
4:47: Fan from Brazil says that he spent all of his money just to be here for this panel and actually brought a T-shirt that he wanted to give to Ian McKellan. He asks Peter Jackson if there is a movie to be made based on the Silmarillion. Unfortunately it's still owned by the Tolkein estate and they aren't very happy with the LOTR movies.
4:49: Freeman says that he didn't feel a great amount of pressure taking this part. He felt comfortable with Peter and they weren't trying to impress him, which made him feel at ease and made him want to be in the movie. He calls Wellington its own little world and feels like a special place where your only job is to go along, enjoy it, and do the best he could.
4:51: Elijah Wood says he was blown away by the footage. Says that it's the emotional moments that make the movies so special. He was only in New Zealand for a month last year, so he feels a bit removed from it, but it still touches him deeply.
4:52: Fan from Tijuana thanks Ian McKellan for visiting all of the fans that were camping out last year. What is the process to select the scenes to find out which will be in the theater and which will be in the extended edition. Jackson says no scenes were earmarked for an extended edition and that they were writing the script while they were shooting. Says it was very organic and it's not until the end when you put it all together that you can figure out what stays and what goes. He adds that there will definitely be extended versions of the Hobbit movies as well
4:55: Andy Serkis says that he was only supposed to come back for two weeks to play Gollum, but about a month before he was going to New Zealand he was asked it he wanted to direct second unit for a year and a half. It didn't take any pressure to make him do it.
4:56: Apparently the riddles in the dark was the first scene that they shot and helped not only Serkis get back into the world, but also helped Freeman find out who Bilbo is.
4:57: Hardwick asks if Serkis will do the voice and he does! "You said you weren't going to whore yourself! Well, when you're in front of 6,500 people you have to, Precious"
4:58: Freeman says he could relate to the character's fear of heading into something new. Part of your job as an actor is to be relatable to it. He says he didn't cast himself, so whatever they saw they thought would be helpful. He's a big believer of knowing what you're making and he sees Bilbo as a vehicle for the audience to see into the story.
5:00: And that's a wrap! Standing ovation as all of the names are once again read off, Check back to Cinema Blend later for a full recap of the footage!
Assistant Managing Editor
NJ native who calls LA home and lives in a Dreamatorium. A decade-plus CinemaBlend veteran who is endlessly enthusiastic about the career he's dreamt of since seventh grade.
Your Daily Blend of Entertainment News
Thank you for signing up to CinemaBlend. You will receive a verification email shortly.
There was a problem. Please refresh the page and try again.