The Hobbit: The Desolation Of Smaug To Reveal First Footage In March Livestream Event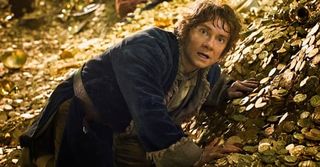 The Blu-ray release of The Hobbit: An Unexpected Journey won't just be a chance to see many, many hours of behind-the-scenes footage from the production of the massive movie. It will also be your first look at the next installment of the trilogy. Announcing the March 12 arrival of The Hobbit on Digital Download, plus a Blu-ray and DVD release a week later, Warner Bros. revealed that Peter Jackson will be hosting a live event first fans to get a first look at The Hobbit: The Desolation of Smaug.
To participate in the event, happening on Sunday, March 24 at 3 pm EST, you'll need the UltraViolet code that comes with the purchase of a 3D Blu-ray or regular Blu-ray or DVD. There will also be an edited version of the footage archived on the site for fans to access, but it's unclear if the preview will ever be released to general audiences. Theoretically the website thehobbit.com/sneak is supposed to provide more information, but at the time we wrote this the link was dead.
The Desolation of Smaug, the second of what will now be three Hobbit films, is set to come to theaters on December 13, and among other exciting things will be the first reveal of the dragon Smaug, played using motion-capture by Benedict Cumberbatch. You can follow up on everything else we know about the film here, and for the full details about An Unexpected Journey's Blu-ray release, head over to The One Ring.
Staff Writer at CinemaBlend
Your Daily Blend of Entertainment News
Thank you for signing up to CinemaBlend. You will receive a verification email shortly.
There was a problem. Please refresh the page and try again.