The Hobbit, Django Unchained Among Most Torrented Movies Of 2013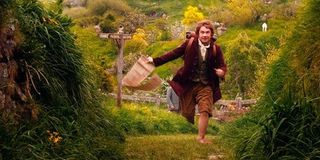 Torrents. A lot of people use them to watch what they wanna watch, and no one can really explain how they work. Science is the guess. Or magic. Perhaps an Asgardian combination of the two. You need certain programs. Maybe you need a tinfoil hat. Maybe your computer needs to be on steroids. Specifically the kind that baseball players use to hit home runs. Torrents. They are a mystery, one that allowed approximately 8.4 million viewers to watch The Hobbit: An Unexpected Journey this year for free.
Torrent Freak's analysis of the year's movie downloads and proclaims the first installment of Peter Jackson's latest fantasy epic the year's most torrented movie. All around the world, deft movie pirates able to procure computer steroids allowed themselves the victory of sitting at home and falling asleep as dwarves throw dishes and sing, elves march up and down impossible peaks in real-time, and a dragon winks at the audience. What technological conquistadors you are, ladies and gentlemen.
The bulk of the year's most-downloaded movies (specifically through torrents, and not by some other magic like alchemy or Megaupload) are Oscar winners from 2012, including Django Unchained and Silver Linings Playbook. Aside from that, well, pirates have the same boring tastes as the mainstream. The Fast And The Furious 6 made almost $800 million worldwide, yet 7.9 million downloaders proclaimed they had to have it now, depriving Vin Diesel of the opportunity to buy more roleplaying dolls. Iron Man 3, the year's biggest movie, was only its fourth-most downloaded film. Likely because Marvel is now housed with Disney, and you really don't want to mess with the Mouse House.
At least we all know why you didn't see Gangster Squad in theaters: you were too busy waiting for it to finish downloading. It's the only real box office flop on the list, the year's seventh biggest download with 7.2 million copies granted to Giovanni Ribisi's rabid fan club. There is an awful lot of downloads and missed profit on this list, though when you make something like The Hangover Part III, perhaps you should expect that 6.9 million don't want to pay for it. The movie industry just completed their strongest year to date, with $11 billion in receipts. They can afford a few computer wizards with handy access to wi-fi, little desire to spend on forgettable blockbusters like Star Trek Into Darkness (7.4 million downloads), and a great deal of disdain for the economics of moviemaking. Maybe, just maybe, these guys were pirating the big blockbusters in order to save their money for the latest independent film.
This isn't a fine science. The article only compiles the use of torrents, which doesn't include streaming sites and more conventional file-sharing sites and methods, like telekinesis, hard copy forgery, and time travel. There are a lot of movies being watched for free out there. Piracy is illegal. And there are some great movies out there. Pirate The Hobbit all you want (until the authorities come, because clearly someone knows you're using BitTorrent, you wizard), but it's best to try frequenting your local arthouse theater, or finding rare gems on Netflix. Good luck.
Your Daily Blend of Entertainment News
Thank you for signing up to CinemaBlend. You will receive a verification email shortly.
There was a problem. Please refresh the page and try again.