The Hobbit Moves Forward: The Shire Rebuilt, And Peter Jackson Invests In RED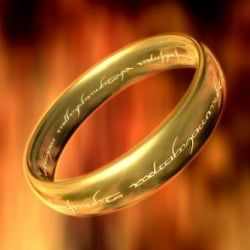 I hate to even suggest that The Hobbit is finally going to start filming, because the moment you get cocky is the moment the sets catch on fire again, Peter Jackson breaks both his legs, or newly cast Bilbo Martin Freeman realizes he's allergic to fake hairy feet and has to drop out. Production on this film has seemed uncommonly cursed, but all signs are now pointing to things actually moving forward-- including two major investments that are typically only made by people actually making a movie.
First up, the print edition of Total Film (revealed in a tiny scan online) shows the New Zealand hard at work at rebuilding the set for The Shire, the Hobbit home where we first meet Bilbo before he takes off on his journey with the dwarves. It's hard to see much, but it looks pretty much the same as the Shire we saw in the Lord of the Rings films, so you can infer the basic look from there.
The other big news comes from a press release announcing that Peter Jackson has bought no fewer than 30 RED EPIC Digital Cameras on which he plans to shoot the movie in 3D. RED cameras aren't just your average 1080p Flip cams, but the highest-end digital cameras on the market, and a favorite of Steven Soderbergh and other filmmakers. With The Hobbit coming to theaters in 3D, it'll be another step along the way of merging the two big technology trends of the moment-- digital and 3D.
Peter Jackson already has a lot of experience using RED digital. He shot a short film with it called Crossing the Line. Here's the trailer for Crossing the Line, just to give you a taste of what RED can do:
The Hobbit is still on track to shoot in New Zealand early next year, so for God's sake, everyone cross your fingers and hunt down your lucky rabbit's foot. Even if you don't think the movie is a good idea-- and I'm not totally convinced-- another year's worth of "The Hobbit is delayed" stories is something I cannot face.
Here's the full press release with details on which RED cameras the production plans to use, for all you lovable, hardcore tech nerds:
Your Daily Blend of Entertainment News
Staff Writer at CinemaBlend