Holiday Weekend Box Office: Torching Tranformers Top Sparkless Fourth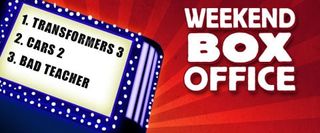 Movies? On the fourth of July? When there are burgers to be grilled, ice cold beverages to be enjoyed, and fireworks to be set off and watched?
The fact that the holiday falls on a Monday helped boost sales a bit on this Independence Day, but overall sales were still only slightly bumped up from usual summer weekday numbers.
While Transformers: Dark of The Moon broke the record for biggest Independence Day opening, overall numbers for the holiday weekend were sluggish compared to recent past. Compare last year's four-day Independence Day weekend totals where the top ten earned $238 million to this year's top ten which only banked $223 million. It's a continued slump for the box office this year which is still 8%-9% behind in sales compared to this same time last year.
But, while there may not be many fireworks at the box office, there are plenty in the sky tonight. Enjoy, and happy 4th!
For the full four day Independence Day weekend top ten totals, check out the chart below:
1.

Transformers: Dark of the Moon
$116,400,000
Total: $181,125,000
LW: N WR: 1
THTRS: 4,013
2.

Cars 2
$32,072,000
Total: $123,002,000
LW: 1 WR: 2
THTRS: 4,115
3.

Bad Teacher
$17,600,000
Total: $63,045,000
LW: 2 WR: 2
THTRS: 3,049
4.

Larry Crowne
$15,742,000
Total: $15,742,000
LW: N WR: 1
THTRS: 2,973
5.

Super 8
$9,525,000
Total: $110,061,000
LW: 4 WR: 4
THTRS: 3,088
6.

Monte Carlo
$8,750,000
Total: $8,750,000
LW: N WR: 1
THTRS: 2,473
7.

Green Lantern
$7,985,000
Total: $103,677,000
LW: 3 WR: 3
THTRS: 3,280
8.

Mr. Popper's Penguins
$6,850,000
Total: $51,875,000
LW: 5 WR: 3
THTRS: 2,861
9.

Bridesmaids
$4,424,000
Total: $153,798,000
LW: 8 WR: 8
THTRS: 1,389
10.

Midnight in Paris
$4,316,000
Total: $34,516,000
LW: 11 WR: 7
THTRS: 858