This Is How Christopher Reeve's Son Honored His Super Father At New York Comic-Con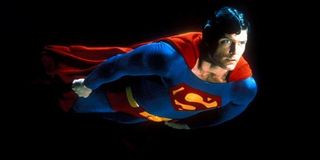 At New York Comic-Con over the weekend, a special moment saw the crowd pay tribute to Christopher Reeve, who died 10 years ago last Friday. Reeve's son Matthew even attended the event and made a special announcement that will help to revolutionize the way spinal cord injuries are treated.
In May 1995, after being thrown from a horse during an equestrian competition in Virginia, Christopher Reeve became a quadriplegic. For the rest of his life he was constrained to a wheelchair, while he also needed breathing apparatus in order to survive. But rather than being subdued and down-heartened by his condition, Reeve rallied and he founded the Christopher Reeve Foundation in order to raise money for research and treatment on behalf of people with injuries akin to his. Since his father's death, Matthew has been heavily involved in the foundation, and as its frontman he has revealed some fascinating recent developments.
On Saturday he announced The Big Idea campaign, which, according to Yahoo Movies, is a treatment that "involves a device that provides epidural stimulation through 16 electrodes that interface with the spinal cord." It has already proven to be a success too. Four patients have been able to either voluntarily move their legs, while some of have been actually able to rise to their feet. The 34-year-old Matthew Reeve, who truly became the face of the company after the death of his stepmother in 2006, wants to raise $15 million that will allow 36 more patients to be get the same treatment that has already drastically altered the lives of the foursome who have been trialled.
As you'd expect, because Matthew Reeve was at Comic-Con the conversation soon turned to his illustrious father, who played Krypton's most famous son in 1978's Superman, Superman II, Superman III and Superman IV: The Quest For Peace. And he admitted that despite the fact that Christopher Reeve played such an icon, to him he'll just always be his "awesome" dad.
After the Comic Con panel, Matthew also spoke to ABC News about how his dad's legacy as the iconic superhero continues to be a great source of pride to everyone in his family.
To celebrate Christopher Reeve in all of his glory, head over to Page Two to watch a clip from his first film as Superman. It's enough to give you goosebumps.
Your Daily Blend of Entertainment News