The Unfortunate Reason Ang Lee's Groundbreaking Ali/Frazier Biopic Might Not Happen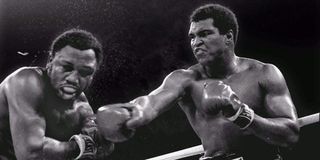 Ang Lee is set to shuffle around his directorial work-load, which means that instead of overseeing a 3D take on Muhammad Ali and Joe Frazier's infamous Thrilla in Manila bout, he will direct an adaptation of Billy Lynn's Long Halftime Walk.
It's been close to 24 months since Lee wowed both audiences and critics alike with Life Of Pi, which was deemed so superb that he even landed himself the Best Director Oscar for his efforts. As you can imagine, his take on Yann Martel's book meant that cinema-goers from around the globe soon began asking the filmmaker about his next project, and when he revealed that it would be another 3D film that revolved around the legendary 1975 boxing match, excitement over the movie immediately exploded. However, budget problems have started to disrupt pre-production, and Lee has become so incensed by the delays that he is now considering working on a smaller movie instead of the sports drama.
The Wrap now reports that Lee has chosen Billy Lynn's Long Halftime Walk, which was written by Ben Fountain and was a National Book Award Finalist. Simon Beaufoy has adapted the novel, and the English screenwriter, who won an Oscar for his work on Slumdog Millionaire, is known for being able to sprinkle his scripts with the sort of ingredients that the awards season laps up with aplomb. This basically means the film has instantly become a front-runner for Academy Awards, Golden Globes, etc. just because of the potential participation of all involved.
According to Amazon (opens in new tab), the synopsis for the film is:
But where does this leave Lee's involvement on the Thrilla In Manila flick? It doesn't look good. If Lee does decide to proceed with Billy Lynn's Long Halftime Walk and the boxing movie also goes ahead, then you can imagine that producers will leave the Brokeback Mountain director behind.
What makes the scenario even more complex is that there are other reasons why Ang Lee is to blame for the boxing film's delay, as he only wanted to go ahead with it when the technology was just right. Producer James Schamus told Screen Daily that Lee is "pushing the technology toward the absolute future of cinema, and pushing it even further than what you saw in Life Of Pi." He then explained that Lee wants to put the audience "in the ring with these guys," while also incorporating 3D technology that is able to enhance "horizontal fast motion [and] the close-ups"
It would be a real shame if Lee didn't end up directing the Thrilla In Manila piece, because, from the sounds of things, he is perfectly in sync with the vision for the film. It also appears, though, that it could help to progress both the boxing genre and cinema as a whole. In conclusion: sometimes the movie business can make bad decisions. Fingers crossed Billy Lynn's Long Halftime Walk will make up for it though.
Your Daily Blend of Entertainment News
Thank you for signing up to CinemaBlend. You will receive a verification email shortly.
There was a problem. Please refresh the page and try again.