How Gambit Will Be Different From The X-Men Movies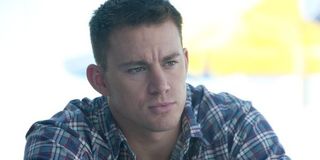 Over the course of their various incarnations, the X-Men movie series has typically stuck to the task of tackling immense threats to the world. While that's all well and good for those team-dynamic films, it's starting to sound as if Channing Tatum wants to break that mold a bit with his upcoming solo shot in next year's Gambit. Could we be seeing a different take on the origin film?
In an interview with Empire Magazine, Channing Tatum implies that his character, Remy LeBeau, aka Gambit, may require a film that has his character approaching the mutant film universe way that's uniquely his own. As Tatum states:
While Channing Tatum's explanation may be vague on the details, it's certainly quite illuminating regarding the mindset of the project. As far as X-Men team members go, Gambit, much like solo film-featured players Wolverine and Deadpool, always tended to walk alone, marching to the beat of his own drum. Likewise, the character of Gambit, while essentially good, is someone who typically walks the line between scoundrel and hero; a thief and con man with a heart of gold, if you will. Thus, any film approaching his origin will clearly have more personal implications than any X-Men film has had in the past.
Essentially a child of the streets of New Orleans, Gambit been doing anything and everything to survive since he was a child. Discovering his mutant power to manipulate the stored kinetic energy of objects into explosively deadly throwing form, Gambit would evolve into a loose-lipped lothario who would eventually find himself problematically embedded with a dangerous guild of thieves.
For Channing Tatum, who looks to reinvent the role from his last live-action depiction by Taylor Kitsch in 2009's X-Men Origins: Wolverine, the character seemed to resonate heavily. Having known the New Orleans area intimately while growing up, Tatum openly identified with the "Ragin' Cajun" and he clearly feels that a generic "save the world from blank" trope would not do the character justice.
At the moment, one of the primary questions surrounding his upcoming take on the Gambit character centers on a possible cameo in next year's X-Men: Apocalypse. From a marketing standpoint, (re)introducing the character in the monumental mega-film makes sense, seeing as its May 27, 2016 release only precedes Gambit by a little more than four months.
It certainly will be interesting to see how Gambit takes shape over the course of this next year. Writer, Josh Zeutmer only just reportedly turned in the first draft, so it could be a while before we know anything. However, if we were to read into Channing Tatum's words, it could look to paint a picaresque picture of the smooth-operating eventual-X-Man fighting foes in a more personal context. Regardless of what we actually get, it all goes down at theaters on October 7, 2016.
Your Daily Blend of Entertainment News
Thank you for signing up to CinemaBlend. You will receive a verification email shortly.
There was a problem. Please refresh the page and try again.