Channing Tatum Is Officially Your Gambit, As Taylor Kitsch Gently Weeps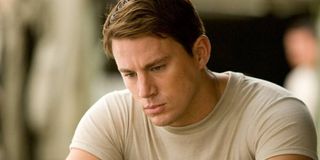 It's been a borderline romantic courtship. Producer Lauren Shuler-Donner sought Channing Tatum to be her new Gambit. And Tatum responded in kind, hoping that he would be the choice. And it appears that after a few months, it is legit: Channing Tatum is Gambit, the Ragin' Cajun, signed, sealed, delivered.
Speaking to Total Film while promoting X-Men: Days Of Future Past, Shuler-Donner confirmed that she's still interested in Deadpool, X-Force and Gambit
But waaaaaaait. We already have a Gambit!
That would be Mr. Taylor Kitsch, who played Gambit in X-Men Origins: Wolverine. Kitsch only got a small amount of screen time, in a terrible terrible movie, but he stood out amongst the noise and clatter of that ridiculous film that has been mostly forgotten by producers. With a young General Stryker showing up in the seventies during Days Of Future Past, bearing no relation to Danny Huston's villain in that film, the steps have been taken to completely isolate that film from the mythology.
This would be a bigger step in that direction, since the X-Men films reportedly move into the eighties in X-Men: Apocalypse, and director Bryan Singer is interested in using the character during a time period where, technically, Kitsch should still be able to play him. And Kitsch isn't exactly the sort of major star that would turn down a role in a 2016 blockbuster.
The question is, when would we see Channing Tatum's Gambit? Given that Tatum is an A-List actor, it seems unlikely he'd play a bit role in X-Men: Apocalypse. Could Fox be planning Gambit as a starring vehicle for Tatum, possibly for that unrevealed 2018 release date? Whatever happens, it doesn't seem like Fox, or any other studio, is in the business of turning down a Channing Tatum tentpole release. Though maybe things will change after Jupiter Ascending. Stay tuned.
Your Daily Blend of Entertainment News