How Kissing Chris Pratt Was, According To Jennifer Lawrence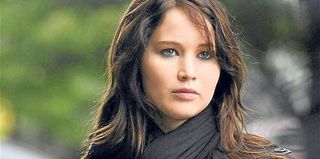 Jennifer Lawrence is one of those people who really appears to enjoy her fame. She's become a massive star and she's having a damn fine time. Never one to shy away from saying exactly what's on her mind, she recently revealed what it's like making out with co-star Chris Pratt. Here's a hint, it's not like kissing a family member.
Lawrence is currently on the press trail stumping for The Hunger Games: Mockingjay—Part 2, the closing chapter in the massively popular young adult dystopian saga, though she's currently filming Passengers with Pratt. Talking with MTV about her latest on screen paramour, she said:
Well, knowing that Lawrence looks at her Hunger Games compatriots Josh Hutcherson and Liam Hemsworth, who play Peeta and Gale, respectively, as family, may change how you watch the movie later this month. In the story the two young men vie for the affections of her heroine, Katniss Everdeen, and thinking of them as her brothers makes their love triangle a little bit weird—okay, Gale was already a brotherly figure, which is, admittedly, a little awkward for everyone at times.
Jennifer Lawrence is ridiculously busy at the moment. Not only is she hyping Mockingjay—Part 2, she has another team up with director David O. Russell, Bradley Cooper, and Robert De Niro, Joy, coming later this year, which could contend for big awards. In addition to that, X-Men: Apocalypse, where she reprises her role as Mystique, is in the can, getting ready to drop next year.
And because that's not enough for one 25-year-old actor, she's currently filming the big-budget sci-fi adventure Passengers, which is where she's been making out with Chris Pratt. That film has been kicking around for a while, and at various times had Keanu Reeves, Reese Witherspoon, and Rachel McAdams attached, but now, directed by The Imitation Game's Morten Tyldum, production is already underway with two of the biggest stars in the world right now.
The story takes place on a space ship carrying a crew on a 120-year journey. Everyone is asleep, in a state of suspended animation, except one guy, played by Pratt, who wakes up 90 years too early. He's kind of screwed, as he'll be long dead before anyone else wakes up (you'd think there would be a protocol for this sort of situation), and in what's kind of a dick move, he decides to wake up Lawrence's character. Against the odds, the two apparently fall in love, and there's a robot played by Michael Sheen.
We'll get to see The Hunger Games: Mockingjay—Part 2 when it opens on November 20, but we'll have to wait until December 21, 2016 to see how Jennifer Lawrence kissing Chris Pratt stacks up against Jennifer Lawrence kissing Josh Hutcherson and Liam Hemsworth, cinematically speaking.
Your Daily Blend of Entertainment News
Your Daily Blend of Entertainment News
Thank you for signing up to CinemaBlend. You will receive a verification email shortly.
There was a problem. Please refresh the page and try again.