How Long The New Star Wars Movie Will Be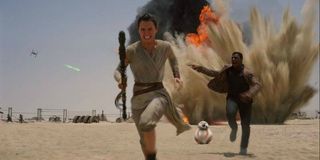 Star Wars: The Force Awakens is going to run for 2 hours and 16 minutes. That's 136 minutes. Or 8160 seconds. Or 8160000 milliseconds. So plan accordingly. Obviously, we're all rather excited about the release of Star Wars: The Force Awakens. The anticipation and fervour for the seventh instalment to the sci-fi space opera has increased exponentially now that we're actually in December.
But while you're understandably giddy at the thought of becoming acquainted with Kylo Ren, Rey, Finn and Poe Dameron, as well as reacquainted with Han Solo, Luke Skywalker, Leia Organa, and Chewbacca, you probably haven't thought about how much seeing the film will actually effect your day-to-day life. But now, thanks to The Hollywood Reporter, we now know how much of your day it will take up.
Though it will likely occupy more time if you've cleared out several hours before seeing Star Wars: The Force Awakens to build up your excitement. And maybe you also left yourself an extended period after to either mull over just how good it was, or to write a strongly worded letter to J.J. Abrams documenting where and when he went wrong with the film in minute detail.
J.J. Abrams admitted as recently as last week that he was just a few shots away from finally finishing Star Wars: The Force Awakens. And the revelation of its run time suggests that he's now finally finished. It was previously rumored that The Force Awakens would clock in at the 137 minute mark, which means that, while editing, somewhere in the middle of the blockbuster Abrams found a minute to shave off.
But what can we glean from the revelation that Star Wars: The Force Awakens will take up 2 hours and 16 minutes of your life? Obviously, not too much. Other than the fact that it's probably slightly longer than we anticipated. But don't fret, because the confirmation that it still clocks in much shorter than each of the Transformers films shows that J.J. Abrams still has a handle on things. We hope.
Star Wars: The Force Awakens has a middle-of-the-road running time when compared against the previous six instalments to the series. 1977's Star Wars originally clocked in at 121 minutes, while The Empire Strikes Back ran for 124 minutes, and Return Of The Jedi lasted 134 minutes.
With the prequels, George Lucas clearly got a little cocky and decided to elongate The Phantom Menace, Attack Of The Clones, and Revenge Of The Sith, as these films run in at 136 minutes, 142 minutes, and 140 minutes, respectively. Clearly he just had so much that he wanted to say with them.
You'll be able to see all 136 minutes of Star Wars: The Force Awakens when it's finally released to the world in just over two weeks time on December 18, 2015. That's right: just 17 days.
Your Daily Blend of Entertainment News
Thank you for signing up to CinemaBlend. You will receive a verification email shortly.
There was a problem. Please refresh the page and try again.