How Leia Has Changed Leading Into Star Wars: The Force Awakens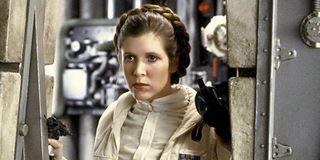 One of the great, mostly unanswerable, questions of life is that nature vs. nurture. Are we a product of the lives we live, or is there an aspect to each of us that we are born with? Does our experience change us, or do we simply become the person we were always meant to be? J.J. Abrams believes the answer lies somewhere in between the two extremes and as an example of how characters have grown and changed through the Star Wars films he points to Princess, excuse me, General Leia.
When Leia Organa takes the screen in a couple short weeks in The Force Awakens she will be a general, no longer referred to as Princess by the Resistance. According to the director, Leia's evolution from royal to military leader is a natural growing up for the character. Still, Abrams tells Entertainment Weekly that Leia is ultimately still the same person she was.
We can probably rely on the idea that Leia will have been hardened by war over the last 30 years. By the end of Return of the Jedi she was already more than willing to get her hands dirty fighting for a cause she believed in, and while a major victory was achieved, the battle has never entirely ended. Spending most of your life fighting, and leading, as she has been doing is sure to leave you with calluses.
But ultimately Leia was always a fighter. She grabbed a blaster and started shooting at Stormtroopers within minutes of being rescued in the original Star Wars. She used her title of Princess as a cover to aid the rebels, but she was always dedicated to the fight. This evolution of Leia does feel more like the character finally reaching the place she was always meant to be, rather than circumstance putting her there. Besides, with her home planet having been gone for nearly 40 years her title of princess didn't really mean anything anyway. It's part of the past and she's fighting for the future.
Leia certainly won't be the only character who has changed over the intervening years, but we still expect those that we know and love to be mostly the same people we remember, except possibly Luke. All bets are off with that guy, we have no idea. How will the last 30 years have affected your favorite characters in The Force Awakens?
CinemaBlend's resident theme park junkie and amateur Disney historian. Armchair Imagineer. Epcot Stan. Future Club 33 Member.