How Star Wars Fact Checks While Making Movies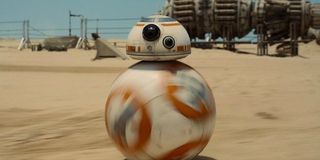 The Star Wars universe is really, really big. Not only that, but fans of the films have also developed a reputation for being somewhat particular and obsessive over the minutiae that might pop up in any of the movies, comics, books, or television shows. But with George Lucas gone, how did Star Wars: The Force Awakens' director and co-writer J.J. Abrams keep track of everyone in the galaxy far, far, away and make sure that all of the film's details were exactly right? Well, he didn't. He simply used Pablo Hidalgo to do all the fact checking for him.
Pablo Hidalgo is a LucasFilm employee who basically knows everything about the Star Wars films, and, while talking to Howard Stern, (via HitFix), J.J. Abrams admitted that he utilised his extensive knowledge of George Lucas' characters and worlds at every opportunity. He said:
There you go Star Wars fans. Basically, if there are any glaring errors in Star Wars: The Force Awakens then it is all Pablo Hidalgo's fault. Fortunately J.J. Abrams didn't provide his address or phone number so he should be able to escape the tyrannical rage of Star Wars aficionados if he's made a grievous oversight. However, that all really depends on just how big the error is.
There have already been a few controversies surrounding Star Wars: The Force Awakens before the film has even been released. Most of these have revolved around the decision to cast John Boyega as a Stormtrooper, with people taking umbrage with the fact that the actor is black.
During his discussion with Howard Stern, J.J. Abrams not only voiced his dismay at the fact that fans had a problem with John Boyega being cast in the part, but a member of Stern's wireless entourage named Mick The Nerd insisted that most of their problems, while stemming from the fact that Stormtroopers were previously thought to have been cloned, come from the fact that the naysayers are all racist.
Either way, at this point, there really isn't a controversy in the world that could stop the Star Wars: The Force Awakens juggernaut in its tracks. The seventh instalment to the franchise is due out on December 18, 2015, and it promises to make quite a splash.
Your Daily Blend of Entertainment News
Thank you for signing up to CinemaBlend. You will receive a verification email shortly.
There was a problem. Please refresh the page and try again.