This Is How Many More Fast & Furious Movies We'll Get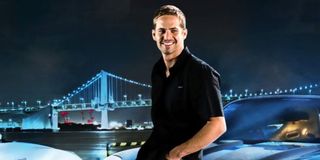 Last winter, the Fast and Furious franchise suffered a terrible loss when one of its stars, Paul Walker, unexpectedly died. Since then, the film's makers have been hustling to complete Walker's final film for the car-chase-centric series. But while we have had to say goodbye to Walker, we may not need to say farewell to Fast and Furious.
THR recently hosted an executive roundtable, and among the guests was Universal Pictures chairman Donna Langley, who dropped some great news for Fast and Furious fans. Asked whether the franchise would be pursued without one of its main stars, Langley said she believed the series could stand without Walker.
In the wake of Paul Walker's death, it became clear that Furious 7 would need to be altered to write out his character, Brian O'Conner. A debate arose over whether O'Conner should be killed off or whether he should drive off into the sunset. But either way, could the franchise carry on without him? With all respect to Paul Walker, yes. It already has.
After the second film in the series, 2 Fast 2 Furious, Universal worked around O'Conner, setting up a new branch of its storyline in Japan with The Fast and the Furious: Tokyo Drift. Conceivably, future Fast and Furious movies could do the same, introducing new characters just as the third installment gave us the greatness that was Han. And speaking of Han, his onscreen demise--along with Gisele's--prove that the franchise can outlive its onscreen antiheroes.
The difference here of course is that Walker is actually gone.
Will fans want to turn out for a movie that will inevitably have a streak of loss? Universal seems confident they will. Hopefully, the changes made to Furious 7 will allow for not only a mind-bending string of action sequences, but also a cathartic conclusion that will allow Fast and Furious fans around the world to mourn together, for the man who helped build such a wildly adored collection of films.
Furious 7 opens April 3, 2015.
Staff writer at CinemaBlend.
Your Daily Blend of Entertainment News
Thank you for signing up to CinemaBlend. You will receive a verification email shortly.
There was a problem. Please refresh the page and try again.