How Michael Bay Responded To Those Kate Beckinsale Allegations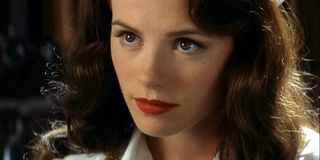 It's been quite a week for airing cinematic grievances. John Crawley has now backtracked on his comments disparaging working with Keira Knightley on Begin Again, while Kate Beckinsale also made some rather unsavoury comments about Pearl Harbor director Michael Bay, too. However, now Michael Bay has come and insisted that all is still good between himself and the actress, explaining that Kate Beckinsale's quotes were just spun by the dastardly media.
The Rock, Bad Boys 2 and Transformers blockbuster director took to his own website to reveal that he and Kate Beckinsale have already laughed over the online kerfuffle, insisting that it's just a "funny story" that has been blown out of proportion. Michael Bay wrote about the pair now being enemies:
Well, that cleared that up. To be fair to the various outlets, Cinema Blend included, that picked up the quotes, it did seem like Kate Beckinsale's remarks were rather pointed and negative. For those of you catching up, here's what Kate Beckinsale said of Michael Bay during a recent interview on The Graham Norton Show:
Nevertheless, according to Michael Bay, this was just Kate Beckinsale jostling and publically making fun of her old chum in a very public arena. I mean, she could have said much worse things about the filmmaker, like comparing him to Adolf Hitler as Megan Fox did shortly after she'd finished her tenure on the Transformers franchise. Now that the dust has settled, we can finally get down to the real business of pairing Michael Bay and Kate Beckinsale back together for Pearl Harbor 2. Am I right? Hello?
Your Daily Blend of Entertainment News