Michael Bay Confirms Transformers 5 With The Most Michael Bay Quote Ever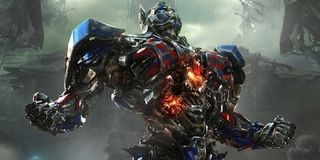 Michael Bay doesn't do small or subtle, and that goes for everything from his massive spectacle blockbusters to the way he lets the world know he's making a movie. The dude is bold and brash, an attitude that comes across in his on screen work, and also in the way he confirmed that he is directing Transformers 5.
The director's latest, 13 Hours: The Secret Soldiers of Benghazi, may be a gritty, more down to Earth affair than his work on Transformers, but that doesn't mean Michael Bay is done with the world of giant shape-shifting robots from space. Talking to Rolling Stone, he said:
That really is Michael Bay being Michael Bay, oozing with confidence and bravado that some may call cocky and egotistical. Still, given the track record for the previous four Transformers movies, he's probably not all that far off. Of those movies, 2007's Transformers stands as the lowest earner, with a mere $709 million worldwide box office tally, and two have topped the billion dollar mark. So yes, even though reviews will probably not be kind, Michael Bay and Transformers 5 will likely make a crap ton of money.
We'll have to wait and see if the "last one" part of Michael Bay's statement actually pans out. He's talked about leaving the franchise a number of times over the years, but the handing over of the reins hasn't quite come to pass just yet. Still, in between chapters, he's managed to squeeze in some smaller—smaller by Michael Bay standards mind you—movies like 13 Hour and Pain & Gain.
13 Hours is based on the real life 2012 attack on the American diplomatic compound in Benghazi, Libya and the CIA contractors—a team made up of former Navy SEALs, Marine Force Recon, and Army Special Forces members—who staged a desperate defense of the grounds. It's a very different kind of story than Transformers, and Michael Bay went out of his way to cast lesser known actors—the highest profile members of the cast are John Krasinski from The Office and James Badge Dale, neither of whom are exactly superstars—in order not to distract from the gravity of the story. It's going to be interesting to see how his frenetic style meshes with the subject matter. The action scenes should certainly be something to behold.
Check out the trailer below.
So, fans of Michael Bay's Transformers saga have Transformers 5 to look forward to, but after that, it looks like someone else may be taking over the big chair. What do you think, are you excited for more of Michael Bay playing with massive extraterrestrial robots or would you like to see him tackle something else?
13 Hours: The Secret Soldiers Of Benghazi opens everywhere January 15.
Your Daily Blend of Entertainment News