How Much Money Teenage Mutant Ninja Turtles 2 Could Make This Weekend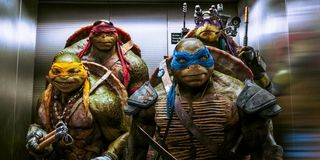 Teenage Mutant Ninja Turtles: Out Of The Shadows might have been met with some scathing reviews, but it doesn't look as though it will be enough to stop the sequel from topping the box-office this weekend. However it's not all good news for the film, because Out Of The Shadows isn't expected to come anywhere near the total of its 2014 predecessor's opening weekend haul.
According to The Wrap, box office experts have estimated that Teenage Mutant Ninja Turtles: Out Of The Shadows will gross somewhere between $37 million and $40 million in the first few days after it hits cinemas. That's a rather huge drop off of around $25 million, as the origin story for the heroes in a half-shell amassed $65.5 million just two years ago.
But the problems for Paramount's blockbuster follow-up don't stop there. The studio actually spent $135 million on the film, which is $10 million more than the reboot. Also, while the fact that Out Of The Shadows is likely to knock X-Men: Apocalypse off the top spot in the box office rankings is impressive, this success isn't expected to last.
Why? Well, Finding Dory is now only two weeks away from release, and once the Pixar sequel swims into cinemas it's expected to blow everyone else out of the water. Especially Teenage Mutant Ninja Turtles: Out Of The Shadows, because these films are aimed at the same family demographics.
Paramount's strategy for Out Of The Shadows appears to have been get it out and released quickly before Finding Dory arrives. Out Of The Shadows will also hit cinemas in 40 international markets this weekend, where the studio will be hoping that it can match the worldwide appeal of TMNT.
While Teenage Mutant Ninja Turtles' $191.2 million gross domestically was deemed adequate, Paramount really made a killing, and were convinced to greenlight a sequel, because of the $302.1 million that it made overseas. Taking its expected, relatively poor US box office start into consideration, Out Of The Shadows is going to have to follow the same trajectory again if Paramount is to continue building the franchise. We'll have to wait a few more days to see, and the franchise's future will become much clearer by the end of the weekend.
Meanwhile, Out Of The Shadows' competition this week is set to have disparate performances. The Emilia Clarke led Me Before You is currently on course to haul in around $14 million. Which, when you take into account that it only cost just over $20 million to produce, is a tip-top return. But, Popstar: Never Stop Never Stopping isn't expected to fare as well. It's currently tracking for just a $7 million opening, off a $21 million budget, which would be deemed poor by Universal.
The fact that Out Of The Shadows will easily eclipse Me Before You and Popstar at the box office despite receiving much inferior reviews is further proof of Hollywood's reliance on franchises and sequels. Which would be somewhat depressing, if audiences didn't eat them up in droves. However, since it's set to fall short of TMNT's box office haul, maybe this is proof that the tide is beginning to turn.
Your Daily Blend of Entertainment News
Thank you for signing up to CinemaBlend. You will receive a verification email shortly.
There was a problem. Please refresh the page and try again.