Watch Bebop And Rocksteady Get Their Own Ninja Turtles Trailer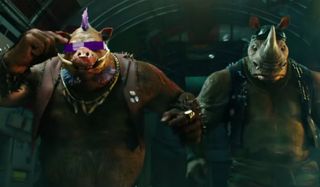 If there's one thing that sets the Teenage Mutant Ninja Turtles apart from other contemporary superheroes, other than their species, it has to be the inherent humor of their adventures. The turtles simply aren't designed to brood, and Teenage Mutant Ninja Turtles: Out of the Shadows will finally give these characters a proper opportunity to cut loose and have some fun while they take down the bad guys. However, it's not just the good guys who will be having a good time. A new trailer has just hit the web that gives the villainous henchmen Bebop and Rocksteady an opportunity to take center stage. Check it out below.
The trailer starts like many other Teenage Mutant Ninja Turtles: Out of the Shadows trailers, by highlighting the brotherly bonding of the titular turtles. They're just hanging out at a basketball game and having a good time when suddenly Bebop and Rocksteady burst through the screen and declare they're taking control of the trailer. What follows is a trailer highlighting all of the hilarious chaos that will be caused by the bipedal, formerly human rhino and pig.
It appears that most of the action sequences in Out of the Shadows will involve the Ninja Turtles facing off against Bebop and Rocksteady. As the reptilian heroes have proven their ability to face off against human adversaries with relative ease, the film seems to have taken the traditional sequel route and amped up the scale of the threat by giving us henchman that can hold their own in a mano-a-mano scuffle.
As I've already mentioned, the best thing that Bebop and Rocksteady seem to bring to Teenage Mutant Ninja Turtles: Out of the Shadows is their senses of humor. In keeping with the subtitle of the film, the next TMNT adventure will do away with the darkness and really give these heroes and villains an opportunity to shine in a light-hearted and campy adventure. The banter between Bebop and Rocksteady represents some of the funniest moments in the entire trailer, and they will undoubtedly insight some of the most boisterous laughs from the audience when the film finally hits theaters.
We here at Cinema Blend will bring you all of the latest and greatest news related to Teenage Mutant Ninja Turtles: Out of the Shadows as it becomes available to us. The latest installment in the TMNT franchise stars Megan Fox as well as Arrow star Stephen Amell, and it will hit theaters early next month on June 3.
Originally from Connecticut, Conner grew up in San Diego and graduated from Chapman University in 2014. He now lives in Los Angeles working in and around the entertainment industry and can mostly be found binging horror movies and chugging coffee.