How Ricky Gervais Will Set His Office Spinoff Movie Apart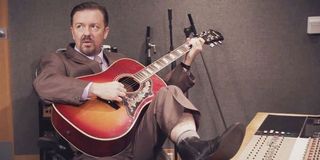 Ricky Gervais is resurrecting his most iconic creation, the dunderheaded David Brent of the U.K.'s The Office. In his soon-to-shoot feature Life on the Road, Gervais will set the spin-off apart from its source material by leaving the office life behind and diving headlong into Brent's not-so-secret ambition: being a rock star.
THR reports Ricky Gervais has completed the songwriting demanded of Life on the Road, which follows David Brent on the road on a rock 'n roll tour through England. Of course, as this is a comedy written and directed by Gervais, it will be bittersweet. Brent has not become the shining star of Britain's music scene. He's still an oblivious goofball with delusions of grandeur. So this tour is self-funded, his earnest but ill-advised attempt to really make a go of his aspirations of fame and fortune.
Like The Office, Life on the Road will be shot in a mockumentary style that wordlessly follows Brent about his business. Picking up 15 years after The Office anti-hero was canned from Wernham Hogg, the film has Brent working a day job as a cleaning products salesman, a plot line he's been building since March of 2013 when he released the Youtube video seen below:
In the vid, David Brent is still desperate for approval and friendship, and awkward in his attempts to garner both. Years may have passed, but some things never change.
As for Ricky Gervais, he has been emphasizing that this is not The Office movie. Which suggests there will be little room for appearances by his old cast mates, like Martin Freeman, Mackenzie Cook, and Lucy Davis. But as a cast list has not yet been announced, it's not totally out of the question either.
Plus, he promises "all new tracks" for Life on the Road, meaning (sadly) no reprise of Brent's reggae song "Equality Street." But let us never forget the song's lesson: "let in love, don't let in hate. No."
While "Equality Street" is a sharp satire of superficial social issues anthems, it's not my favorite Gervais song. That honor I bestow to Gervais's trip to Sesame Street when he sang to/tormented Elmo, and Elmo threw some serious shade. ("Is Mr. Ricky Gervais a celebrity?")
Life on the Road will roll into production in 2015, after Ricky Gervais has wrapped on his Netflix series Derek.
Staff writer at CinemaBlend.
Your Daily Blend of Entertainment News
Thank you for signing up to CinemaBlend. You will receive a verification email shortly.
There was a problem. Please refresh the page and try again.