How Sacha Baron Cohen Used Disabled Toilets And Lies To Prank The Oscars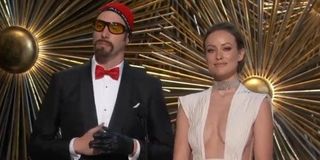 One of the highlights of the 88th Academy Awards saw Sacha Baron Cohen reprise the character of Ali G while he introduced a presentation for Best Picture nominee Room. As soon as the English comedian appeared as Ali G it become plainly obvious that he would mention the diversity issue that had blighted the nominations and build-up to the ceremony. It turns out that the Academy was well aware Cohen might make such a remark, which is why he needed to sneakily apply his Ali G attire in a disabled toilet in order to get pull it off.
The Academy told Sacha Baron Cohen that we wasn't allowed to make his appearance on stage in character, but the Borat and Bruno actor couldn't resist the opportunity to bring Ali G back to life. Speaking to ITV's Good Morning Britain (via The Guardian) Cohen explained:
For those of you that don't know, Sacha Baron Cohen's wife just so happens to be the actress and Now You See Me star Isla Fisher. Cohen continued by explaining that they had to lock themselves in a toilet for 40 minutes in order to apply the goatee. Anyone attempting to get into the occupied toilet were told that the comedian had food poisoning.
Sacha Baron Cohen admitted to being a little nervous about his appearance in the face of the Academy's wishes. But after bumping into Chris Rock on the way to the stage, he revealed his plans and the host instantly approved. And it was a good job that he did too, because Ali G's introduction for Room was one of the highlights of the night.
Did you miss the 88th Academy Awards and don't have a clue what Sacha Baron Cohen said as Ali G? Well, luckily, you can read a transcript of his hilarious Oscar performance below:
You can also click over to Oscars.com to watch a video of Sacha Baron Cohen's Oscars performance. It's worth it just to see Olivia Wilde trying her hardest to remain professional. But failing miserably.
Your Daily Blend of Entertainment News
Thank you for signing up to CinemaBlend. You will receive a verification email shortly.
There was a problem. Please refresh the page and try again.