How Scarlett Johansson Ended Up In A Marvel Movie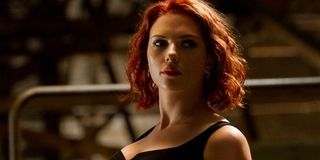 Scarlett Johansson has blossomed into one of the most integral members of the Marvel Cinematic Universe, and the fact that she has managed to do this without having her own solo movie makes this achievement even more impressive. But how did it all begin? The actress has now explained how she got her role with the studio, admitting that she actually went out of her way to get involved with what the folks behind Iron Man were building.
Scarlett Johansson made her comments during her in-depth discussion with W Magazine. The blonde bombshell also graced the publication with a rather scintillating photo-shoot also, however it was Johansson's comments regarding her introduction to the with Marvel Cinematic Universe that also wound up grabbing our attention. Asked about her path to the comic book movie world, Johansson told the interviewer,
Johansson also took the opportunity to remark that her friends and family were actually "surprised" to learn that she wanted to play a "comic book heroine," but one would have a hard time arguing that she isn't pretty damn good at it. Though Iron Man 2 - where she was first introduced to the Marvel Cinematic Universe - continues to be one of the more debated-about titles the comic book movie company has produced, Joss Whedon made the Black Widow character brilliantly shine when he directed Johansson in The Avengers, and Joe and Anthony Russo did a brilliant job using the character's grey morality as a counter-balance to the titular hero's boy scout attitude in Captain America: The Winter Soldier.
And while Black Widow may not have a solo movie of her own just yet, Scarlet Johansson has been given more than a few moments to standout as her own kind of awesome next to the likes of Iron Man, Hulk, Thor, and Captain America. Watching her destroy a posse of Russian criminals with ease was simply a delight to see, and you can revisit that amazing scene in the clip below.
Arguably, Johansson has always had to feed off cinematic scraps while portraying Black Widow, but it speaks wonders for Scarlett Johansson's talent as an actress that she has managed to grab-hold of these moments and make herself an integral commodity to the universe. In fact, the popularity of her portrayal has risen to such an extent that there have been numerous calls for Black Widow to receive her own solo film. Unfortunately, despite the fact that Kevin Feige admitted back in 2010 that discussions had been held about a Black Widow solo movie, it's looking more and more unlikely that will ever be the case.
Of course, that doesn't mean Scarlett Johansson's role in the Marvel Cinematic Universe is set to wane over the next few years. Far from it, in fact. She is expected to have a very big role in both The Avengers: Age Of Ultron and the third phase of the studio's assault on multiplexes - including Captain America: Civil War. We'll begin to see how that all works out when Age Of Ultron is released on May 1st.
Your Daily Blend of Entertainment News