How Video Games Inspired 10 Cloverfield Lane In A Very Specific Way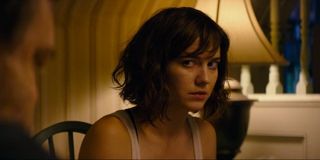 With the release of 10 Cloverfield Lane now just a few days away, the secrecy surrounding its release has dissipated, and we've got a clearer idea of what the film is actually about. Rather than being a direct sequel to 2008's Cloverfield, it has instead been described as a spiritual brethren to its predecessor. Which extends to how this new movie was shot. Just like Cloverfield, 10 Cloverfield Lane was filmed in an experiential way, with director Dan Trachtenberg now admitting that he was heavily influenced by video games for its shoot.
I recently had the opportunity to sit down with Dan Trachtenberg, and the filmmaker -- who made his feature-film debut with 10 Cloverfield Lane -- explained to me how being such a devout and passionate video gamer influenced his decisions as a director.
Studios will be very interested to see how audiences react to Dan Trachtenberg's approach with 10 Cloverfield Lane, because they are currently trying to successfully adapt video games for the big screen, having failed so miserably in this genre in the past. I'm looking at you Max Payne. Not only is Duncan Jones' Warcraft due out this summer, but the Michael Fassbender-led Assassin's Creed will hit at Christmas, too.
The early reviews for 10 Cloverfield Lane suggest that Dan Trachtenberg was rather successful with his efforts, because, even though it's early, the movie currently has a 93% rating on Rotten Tomatoes. You can click over here to read my thoughts on 10 Cloverfield Lane too, if you're so inclined.
Dan Trachtenberg's ascent to mainstream director is one that will warm the cockles of even the most cynical movie fan. Having previously been the host of the online series The Totally Rad Show and Geekdrome, Dan Trachtenberg directed short films and commercials before he was then secretly given the chance by Bad Robot to oversee 10 Cloverfield Lane. You can check out a snippet of my discussion with Dan Trachtenberg about 10 Cloverfield Lane, below.
10 Cloverfield Lane will be released into cinemas this coming Friday, where it has the Sacha Baron Cohen-led The Brothers Grimsby for company.
Your Daily Blend of Entertainment News