Hugh Grant Has A Message For People Who Think Love Actually Is BS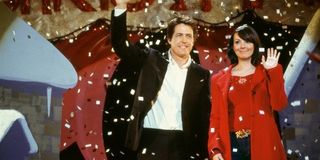 Hugh Grant has launched an impassioned defense of Love Actually, while at the same time also revealing that the romantic-comedy's writer and director, Richard Curtis, is a woeful romantic.
According to Vulture, Hugh Grant made his comments after being informed of The Atlantic's recent tenth-anniversary review of Love Actually. Rather than celebrating the intertwining tales of London's lovelorn, the publication heavily lambasted the film. In fact The Atlantic called it anti-romantic. (!!!)
After a screening of his latest rom-com, The Rewrite, on Tuesday, Hugh Grant decided that he wouldn't take this abuse lying down, and valiantly fought back. And in the process revealed just how chequered Richard Curtis' history in the love department is.
It's rather easy to critique Love Actually. Set over the five weeks leading up to Christmas Day, with an epilogue that unfolds a month after, Love Actually follows: the friendship of Bill Nighy's Billy Mack and his manager Joe (Gregor Fisher); the unrequited love that Mark (Andrew Lincoln) has for Juliet (Keira Knightley); Alan Rickman's overly flirtatious behavior with Heike Makatsh that leads to his separation from Emma Thompson; and, well, numerous other stories that are just too many and clichéd to go into. The film has been out for more than a decade now, so if you want to know, either head over to Wikipedia, watch Honest Trailers' takedown of it, or actually see the film.
The problem with Love Actually is that, in parts, it's borderline creepy. Not only has Andrew Lincoln's character developed an obsession with his best friend's new wife but he even has the audacity to go out of his way to reveal his true feelings for her. That's not all, though. Liam Neeson helps his stepson get over the recent death of his mother by assisting his romantic pursuit with a girl who has the exact same first name as the recently deceased. In fact, if you take the time to analyze and examine each of Love Actually's plot strands, there is plenty to be freaked out by.
But then, on the plus side, it also features Hugh Grant dancing like this …
Plus, for all of its flaws, there is something innately sweet and loveable about Love Actually. And it clearly resonated with audiences worldwide too, because the rom-com ultimately went on to gross over $245 million across the globe. Take that haters!
Your Daily Blend of Entertainment News