How Hugh Grant's Handsomeness Almost Cost Him A Movie Career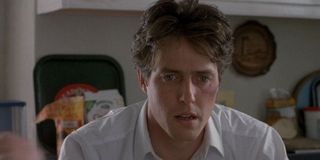 Screenwriter Richard Curtis has revealed that he was against Hugh Grant taking the lead role in Four Weddings And A Funeral, and he actually voted against the actor when it came to deciding who got the part. Considering it was the performance that wound up founding Grant's career, that's a pretty astonishing fact.
After his performance in the romantic comedy, which was written by Curtis and directed by Mike Newell, Grant went on to become an international star, and he later paired together with Curtis for 1999's Notting Hill too, which helped to cement his place as England's most famous actor of the 90s. Grant recently revealed Curtis' original decision when he declared that the writer had done "everything in his power" to stop him from taking the breakthrough part, and Curtis has now gone on to add some more detail to the tale, insisting that he only tried to get in Grant's way because he was "too good looking" for his liking.
According to the Daily Mail, Curtis made the declaration at the Cheltenham Literature Festival, and it sounds as though the writer/director, who would eventually cast Grant as the Prime Minister of Great Britain in Love Actually too, either had a man-crush on Grant or was just plain old jealous of his looks. Or both! Said Curtis,
Grant revealed that he wasn't Curtis' preferred choice for the part during his appearance on The Graham Norton Show last week. He had been forced to make the declaration after it was said that the part of Charles had been written specifically for him. Grant scoffed at this suggestion, and then went on to explain how in fact it had been the complete opposite.
In his impossibly English way, Grant went on to add that he probably only got the part because they couldn't "find anyone else." Of course, it's a good job that Curtis could be turned around in his verdict on the actor, because no one else can read his dialogue and play his characters in quite the same way that Grant manages. They're kindred cinematic spirits; and just to remind you or their brilliance together, head over to page and watch the infamous opening of Four Weddings And A Funeral. Warning: It's a bit sweary.
Your Daily Blend of Entertainment News